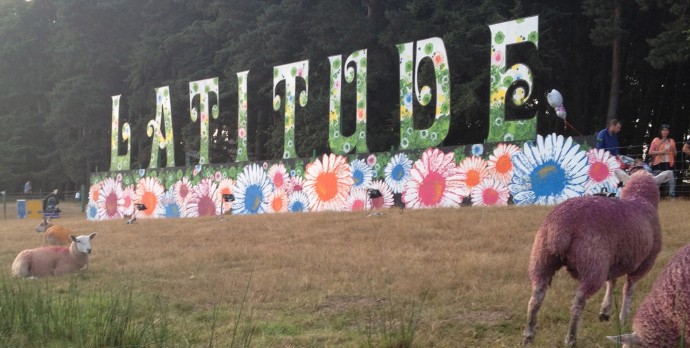 I worry about the youth of today. Gig etiquette is simply not something that they understand. A case in point: as James Blake took to the stage for his Sunday afternoon slot at Latitude, it was almost as though anyone under the age of 20 had been 'activated', and their gormless trudge to the stage couldn't be obscured by anything that would get in their way, like other people watching the performance, for instance. Where the weather had been the scourge of previous Latitude festivals, this year, it was 'posh teenagers'.
Beyond this mild annoyance, the eighth edition of Latitude was a roaring success. The sun may have helped – for where in the past my weather-related concerns stretched to trench foot, this year the concern was getting burned. Give me a beer in the sun and some top music, and you've got a happy man. No amount of teenagers from the Village of The Damned would seriously taint this.
Let me run through a few of the musical highlights…
I Am Kloot brought a typically skewed performance to the main stage on the Friday, and for me, they kicked the festival off. Comparisons to Elbow are kind of expected, given the role that Guy Garvey and Craig Potter have played in producing their last couple of albums – but for me they sound like The Beatles with a hangover. I honestly can't get enough of I Am Kloot – and it's about time that more people started to catch on to their immense charm. Lead singer John Bramwell had an easy hold on the audience, either resulting from his natural confidence or the consumption of beer (him and us). It's hard to tell. Their set closer, 'Proof', stands as one of the highlights of the festival.
A late addition to the bill, Richard Ashcroft, provided the opportunity for a tent full of people to sing along to songs from 'Urban Hymns'. In fairness, Richard Ashcroft and a guitar was outstanding. 'The Drugs Don't Work' was captivating, with more than a few people having a 'no, it's dust in my eye' moment. However, the highlight came as he was articulating how good it was to be at a festival where real musicians were playing real music, keeping it natural and authentic, and interacting with the audience. These sentiments shared while the main stage was being prepared for Kraftwerk. I don't think they got the memo about the expectation of an acoustic set.
And so, to the German pioneers of electronica. I had huge expectations for the Kraftwerk Saturday headline set. Billed as a 3D show (to which, a good mate of mine who plays in a band around London quipped 'I don't know how we'd do a show that wasn't in 3D'), I was just looking forward to the entire experience. And so, I stood in a field with probably 20,000 other people and put my paper 3D specs on, and witnessed something quite amazing. Fine, it's four blokes in rubber suits standing pressing a few buttons – but my god the results are staggering. I heard some people saying that the show was a bit of a let down. Well, I have no idea what they were watching – from my vantage point, the whole thing was magic.
At the opposite end of the spectrum in terms of on-stage energy were Yeah Yeah Yeahs. That Karen O is a bit of a one, isn't she? I've always really liked Yeah Yeah Yeahs – from the debut EP ('Bang' is as solid a calling card as you can hope to have) right through to 'Mosquito'. I didn't anticipate how good they would be live. Drummer Brian Chase seemed to be channeling a cheery version of Animal throughout the set – and was hell-bent on pounding the kit with such ferocity that The God Particle could be discovered. Fabulous stuff. The set was a truly outstanding, crowd-pleasing success. Sign me up.
Gaz Coombes deserves a special mention. I was gutted at the break-up of Supergrass a few years back. Fine, they were past their best, but they could still kick the arse out of a tune when they wanted to. The Hotrats kept the flame burning (and, I still highly recommend their inspired album of covers, if you haven't dipped your toe in that particular water yet). But, Gaz Coombes debut solo record was a bang-on return to form. It's now the third time I've seen him play (once in each of the three guises mentioned above), and he never fails to captivate. With a look that now channels dirty rock 'n' roll, but with tunes that still capture the essence that made Supergrass so special – I feel that Gaz Coombes should be acknowledged as some kind of Special Envoy for tasteful fun.
To be filed under 'biggest surprise of the weekend', we have Laura Mvula. I feared that 'Green Garden' would be a one-off – a perfect slice of catchy pop that emerged earlier this year, but which would be followed by the mediocre. However, the album 'Sing To The Moon' made it clear that there was much to pay attention to here. Live, she kicks it up another gear. With a band capturing a unique sound, containing harmonies to make The Beach Boys jealous, a harp, a cello, and ear-rings large enough to facilitate acrobatics – she was just brilliant. It was charming to see someone so genuinely overwhelmed by the rapturous response she received. If you ever get the chance to see her live, just do it.
As Cat Power walked on stage to a version of 'The Greatest' that was so slow that you could almost see the chords, I was wondering if this was really fitting for an afternoon on the main stage of a festival. I got my answer very quickly – 'yes'. Her set was brief, but perfect. Even new material from 'Sun' (which I found to be a little weaker than her previous output) was wonderful. I place a huge tick in the 'stage presence' box for Chan Marshall – she's more than a little nuts, but she's absolutely great. And, any artist who calls a halt between songs to get first aid attention to the front of the audience deserves a high five from the crowd.
Beth Orton delivered to my expectations. You know what you're going to get when she walks on stage – it's low key, it's classy, and it's mesmerizing. She has such a distinctive voice, and an easy presence on stage – though, she was less sweary than she has been previously, and I felt a little cheated as a result. I wish every summer afternoon was blessed with a live performance from Beth Orton.
A highlight form Latitude 2011 came from Steve Mason. The main stage may have been a stretch for him in 2013, but he delivered. Considering the 'Middle Class' reputation that the festival has, it was brilliant to hear Steve's bitter tirade against the government and the forces of corporate greed. He's basically a groovy anarchist. He would have gone down a storm on a smaller stage, but I had a blast 'up front'.
I've recently waxed lyrical about Daughter. It's been a few months since I saw them in a small NYC venue, and in the time that's passed, I feel that they've built some serious momentum. Glastonbury has clearly helped to cement them a well-deserved reputation. Off the back of this, there was a buzz about Daughter playing the BBC 6 Music stage on the Saturday afternoon. The audience was captivated, taking in the luscious soundscape. Their time has come. I felt as though I was seeing a band come of age right there and then.
There were some disappointments littered through the festival. First up, I'll call out Foals. I've seen them before (actually, at Latitude, when they headlined the second stage a few years ago), and they were a revelation. This time, the final night headline slot was just too much to ask of them. It's not like they were bad – they weren't – but they just didn't click for this prestigious slot. Likewise, I was looking forward to Bobby Womack taking to the stage on the Sunday lunchtime. But for me, it was all just too smooth. I want my soul with a bit of edge. But, the biggest crimes against live music came from Friends. I was disappointed with the album 'Manifest!', but was willing to give them a try based purely on the strength of the single 'I'm His Girl' – which I still maintain is one of the best releases of 2011. I have no idea what they were thinking, but they were truly, astonishingly bad. I think the lead singer assumes that if she tries to purr into a mic, and grind as she dances, that the audience will forgive the sins being committed. We don't. It was bobbins.
The low point of the whole weekend – even lower than posh teenagers with their total lack of awareness of personal space – came form Craig Charles. I have no idea what he thinks he's doing – but he's no DJ. I expected some solid funk to round off an evening, so I stuck around for three tunes. In that space of time, I'd heard him crash three songs, and bring in silence through a mix. This, while he was throwing his arms in the air on the stage, and trying to whip the crowd into a frenzy. It was embarrassing. We went to a bar.
And so, to my highpoints. I'm going to give you two…
First up, one that I wasn't expecting. The Friday headline set was incredible. Bloc Party, who had previously announced that the Latitude performance would be their last before going on an indefinite hiatus, absolutely nailed it. Opening with 'So Here We Are', and taking in material from throughout their ten-year history, they held the audience in ways that Foals would fail to do two nights later. Based on this, I can only hope that the hiatus isn't a permanent farewell.
My second highpoint actually continues the theme from Bloc Party. It also relates to Hot Chip. For, taking to the main stage for both bands over the weekend was Sarah Jones on the drums. I'm still astonished by her performance(s). Bloc Party weren't so much 'joined' by Sarah Jones as 'transformed into a frenzy'. It's hard to always put your finger on what makes a drummer special. There are certain flourishes that make a drummer stand out. Stewart Copeland has a sound. Omar Hakim has a sound. Hell, even Stephen Morris has a sound. I know this is a big statement – especially placing her in a list of such reputation, but Sarah Jones has a sound: it's clean and relentless. As we watched, we realized that it was Sarah Jones who actually cast the same magic over Kele's performance at Latitude in 2012. That's two years in a row that she's made such an impression. Good work.
A suggestion for Latitude 2014: just have all bands add Sarah Jones to their lineup. It'll be a great festival. Just charge more for teenagers to attend.