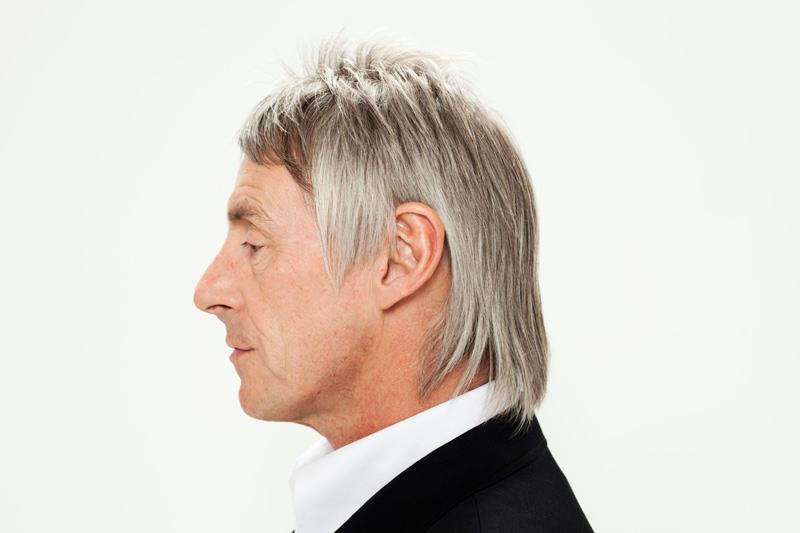 'Musically relevant' doesn't quite capture it. There are not many artists who've had a career with the longevity, the creative reinvention, the stylistic shifts, and the consistency of Paul Weller. The norm for an artist who's been recording for nearly 40 years would be to kick into a live set with familiar material. The fans would expect it. There's a familiarity, a degree of comfort, in hearing one of your heroes 'shut up and play the hits'.
But, this is Weller. The rules are different.
Last night, in the heart of New York's Times Square, Weller showed how his rules work. Looking every inch the elder Statesman of Mod, sporting the trademark double-breasted suit of the season (a boss look that not many people can pull off), Weller walked on stage with a wry smile. I've seen an angry Weller walk out before, and the show has ended up being properly incredible. But, last night, the smile should have been an early indication that Weller had a few tricks up his well-tailored sleeve.
Trick number 1: NOT starting on familiar ground
The smile spoke of Weller's confidence in 'Sonik Kicks' – an album that he emerged to play from start to finish. An artist with 22 other albums worth of material to pick from, facing an audience who, to be fair, probably expected to hear more than their fair share of the familiar, chose to go with 14 new songs as a way of kicking off their set. And, by Christ, it worked. I've already shared my views on 'Sonik Kicks', but live the Small Faces vibe came through even louder and even clearer. It was a spectacular start to the show. From the effects-driven 'Green', through the cock-er-ney 'That Dangerous Age', the mesmerising ska-influenced 'Study In Blue', and album closer 'Be Happy Children', it was all here. All in order. All present and correct. All chuffing marvellous. Yes, 'Sonik Kicks' is classic Weller.
Trick number 2: do an acoustic set, with a difference
Acoustic Weller is no new thing. From 'Days Of Speed' era acoustic-only shows, through to brief acoustic sets in the middle of a show, it's almost an expectation. After a brief interval (OK, the audience at a Weller gig is also getting older now…) Weller changed the game with the acoustic set. With five stools (I know this sounds all very boy-band esque) at the front of the stage, Weller was flanked by his band – Steve Craddock, Andy Crofts, Steve Pilgrim and Weller with an acoustic guitar a piece, and Andy Lewis on bass. And, to really make sure that this was no ordinary acoustic set, the string section that had adorned 'Sonik Kicks' with an orchestral flourish stayed.
After fourteen new songs, my mate asked me what I would like to hear as the start of this acoustic set. My reply was immediate: 'The Butterfly Collector'. Within seconds, that's what we were being treated to. It was like Weller's reward to the audience for staying with him as he shared new material.
The acoustic set also afforded the opportunity for Steve Craddock's playing to really shine. 'Out Of The Sinking' has simply never sounded better thanks to some astonishing work from Weller's long-time collaborator.
Trick number 3: show how solid your solo work has been
In a set of over 30 songs, there was nothing by The Style Council, and only two tunes from The Jam. Weller's solo work really does warrant its own merit. During the third phase of the evening, Weller turned electric, and shone a light on how astonishing his solo work has been. The selections were targeted at two solo periods: the first three albums (his eponymous debut, 'Wild Wood' and 'Stanley Road'), and the three albums leading up to 'Sonik Kicks' ('As Is Now', '22 Dreams' and 'Wake Up The Nation'). The later material absolutely stacked up well against stone cold classics – 'Wake Up The Nation', 'From The Floor Boards Up' and 'Echoes Round The Sun' being stand out tunes of the night. 'Stanley Road' and the almost necessary 'The Changing Man' always – always – sound good.
While the evening closed with 'A Town Called Malice', this wasn't a nostalgia show. This was Weller showing that he absolutely still has 'it'. The new material worked better than it had any right to, the acoustic set was jaw-dropping, and the night closed out with a balls-to-the-wall run through some of the most solid tunes from any working musician over the last 20 years.
The last time I saw Weller on this form was in 1996, in support of 'Stanley Road'. That was one of the best shows I've ever seen. Last night was up there. Splendid.