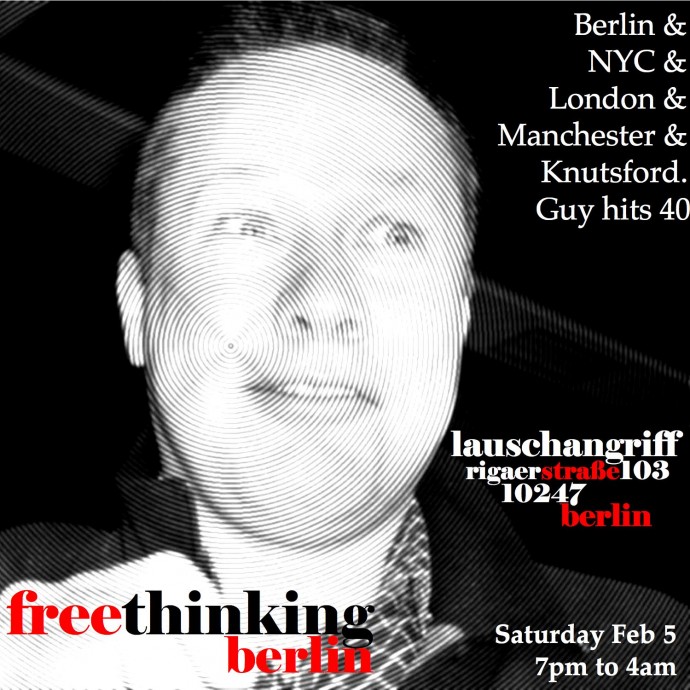 Earl Zinger? Check. Johnny Pate? Check. Japan? Check.
Some of the normal favourites managed to sneak through and into the set for freethinking berlin this weekend. It's fair to say, however, that the night was a slightly different proposition to the regular freethinking nyc idea.
A very good mate of mine turned 40 this weekend. The occasion was enough to bring a strong Manchester-based contingent over to his new adopted homeland to celebrate. Throw in a top crowd of Berliners, and a bar which was taken over for the night – a seven hour DJ set was pretty straightforward:
Manchester. Just play lots of music from Manchester.
I've never seen a room full of blokes in the advanced stages of alcohol intake cheer so much to the sound of the Happy Mondays. Or The Verve. Or Joy Division. Or, in fairness, give it loads to lesser-known Manchester output from artists such as A Certain Ratio or Marcel King.
A slight detour towards Stevie Wonder and a bit of solid Motown? OK, but as long as you whack on a bit of Oasis soon after. Roxy Music? Absolutely, but as long as you slam on a bit of The Charlatans to balance it out. You can't stray too far from Mancehster, can you?
Seriously – it was a top night, and the crowd made it. I've never seen people fling themselves headfirst into dancing with quite the same passion, verve, and willingness to exercise their vocal chords.
Oh, and I played '99 Luftballons'. Yes, you read that right. Mixed into 'Gonna Fly Now' by Bill Conti (AKA, the Rocky theme music). I've always said, it's not about being cool…