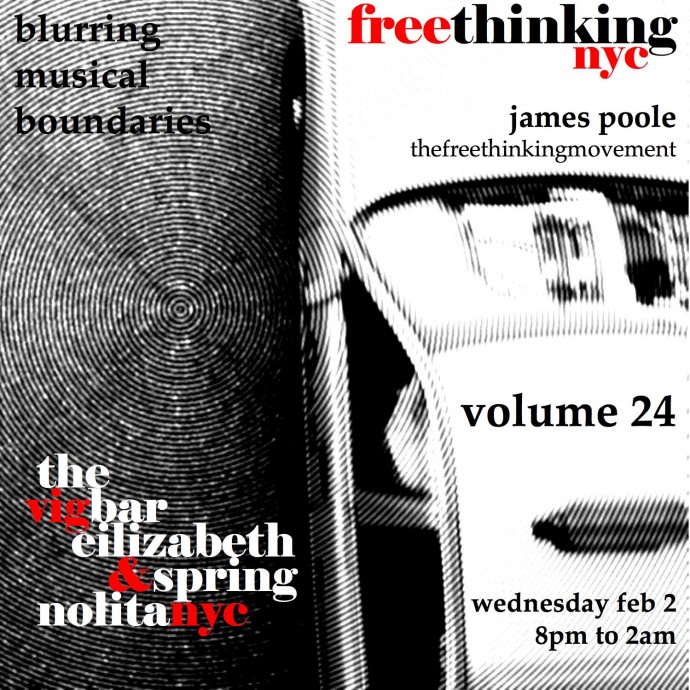 'Can you play something more up to date, like from the 2000s?'
Can you be more specific?
'Something from the 90's'
Well, this is brand new.
'Something like Salt-N-Pepa'
I think it's fair to say that some people really don't know what they're after when they go to ask a DJ for 'some music'. Another priceless exchange last week involved someone literally asking me if I could play 'some music' as a request. 'Some music'. I think I nailed it.
The feedback at freethinking nyc, volume 24 was otherwise bang on. Throwing down 'Life's What you Make It' by Talk Talk even got one guy sitting not far from the DJ booth shouting in appreciation. Hollering, I tell you. A triple-header of The Smiths and Morrissey also went down very, very well.
With music from Caribou to Kid Creole, from Nat Cole to Elli Goulding, from Antibalas to The Undertones, the freethinking ethos lived on at the vig bar.
The track with possibly the best general reaction of the night was by The Human League. 'The Sound Of The Crowd', from their early 80s classic 'Dare', is a slice of solid electro-funk. It always gets a great reaction, from people either not having heard it in years, or from people genuinely floored that this is the work of a band they know primarily for their poppier hits. It never sounds dated, and works next to just about any track I mix it in with. Top stuff.
And, the tune which finally got the person making the initial request happy? The person wanting 'up to date' Salt-N-Pepa from the 90s? That'll be 'It's a Shame' by The Detroit Spinners. That'll be classic soul from the 60's, then.