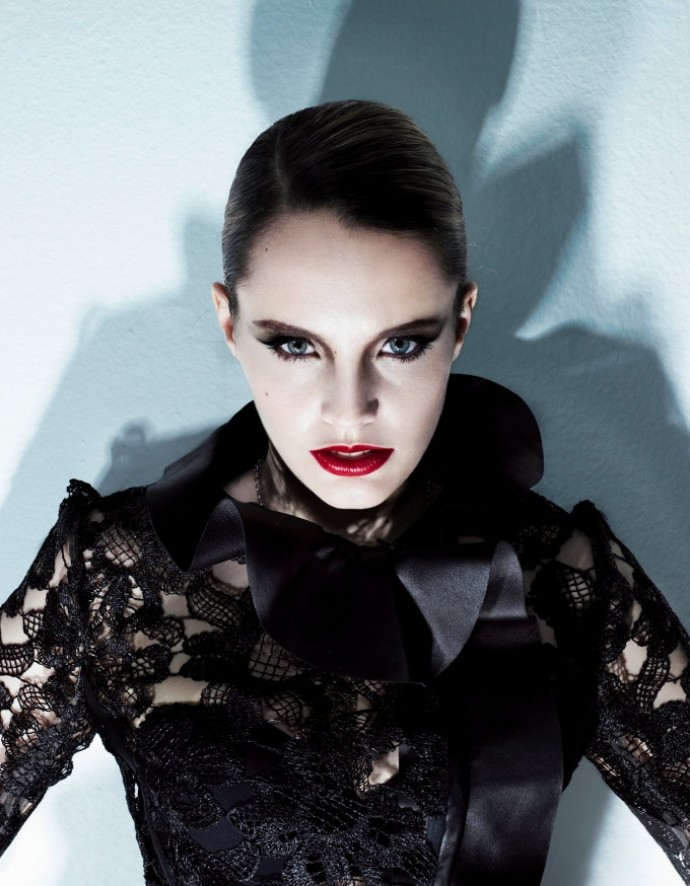 Call it blues, delivered with an operatic sneer. Sounding like the nasty sister of Bat For Lashes – the one who grew up listening to dirty rock, as opposed to Kate Bush – Anna Calvi demands your attention. Take one part Florence Welch (the voice bit), one part Patti Smith (the attitude) and one part PJ Harvey (the bit that's generally cool as fuck), and you've got the heir apparent.
Switching gender, and I know I won't be the first to say this – but perhaps the closest comparison to Anna Calvi's dark sound is Nick Cave. Here's the thing: Nick Cave has a twisted troupe of (supremely talented) outcasts on stage with him to achieve the forcefulness of his bombastic blues. Anna Calvi doesn't go it alone – she's joined by a drummer who seems to conjure sounds from nowhere and a percussionist who seems to showboat her grasp of a full range of instrumentation – but Anna stands in her tiny frame, belting out ridiculously epic vocals. And, while she's at it, she's tearing into the guitar like she's been possessed.
Anna Calvi is bloody wonderful.
And so, it's perhaps fitting that in the Mercury Award list, while we have Elbow (let's face it – to not have Elbow in the list for 'Build a Rocket Boys!' would have been nothing less than perverse), and we have freethinking favourites Everything Everything (if 'Man Alive' wins, I'll celebrate with a pint) we also have Anna Calvi cosying up to PJ Harvey. Anna Calvi's eponymous debut album absolutely deserves its place. It's a glorious work of blissed out darkness. It shows more balls than anything I've heard in ages. It's a young pretender sitting side-by-side in the nomination list with her older trailblazer. 'Let England Shake' is an absolutely stunning album – wait for it – possibly PJ Harvey's masterpiece. That said, I'm genuinely torn as to whose mantelpiece I'd like to see with the 2011 prize sitting on it. It's a proper embarrassment of riches. We'll see who gets their mucky paws on the prize on September 6…
In my previous post, I referred to seeing Anna Calvi grace the stage at the Latitude festival. All I can say is this: 11pm in a small NYC club trumps early Sunday afternoon on a festival stage. It's not that the latter wasn't great. It was superb. It's just that Anna Calvi's presence – and that of her astonishing band – was more keenly felt this week at LPR. It's all about the venue. Earlier in the year, I caught PJ Harvey at the nadir of NYC venues (there's a quote that they won't be using to publicise the place): Terminal 5. It was a stunning show, but just the wrong venue.
Anna Calvi at LPR – right artist, right time, right venue. Spot on.
Returning to the evident influence for Anna Calvi – PJ Harvey. Either recorded or performing live, I struggle to think of many artists who are more compelling than the elder stateswoman of cutting edge British music. For years, PJ Harvey has been truly astonishing – the constant re-invention, the bold experimentation, the lyrical sharpness.
Any list of female musical icons – true icons, who innovate and push the boundaries while delivering spectacularly solid output – has to be lead by PJ Harvey. I'd throw Bjork onto the list. I'd also add Joan As Police Woman, Janelle Monáe and Cat Power.
But, by Christ, I'll also be adding Anna Calvi to the ranks from now on. If this is how she starts, I can't wait to hear when she gets really dark…