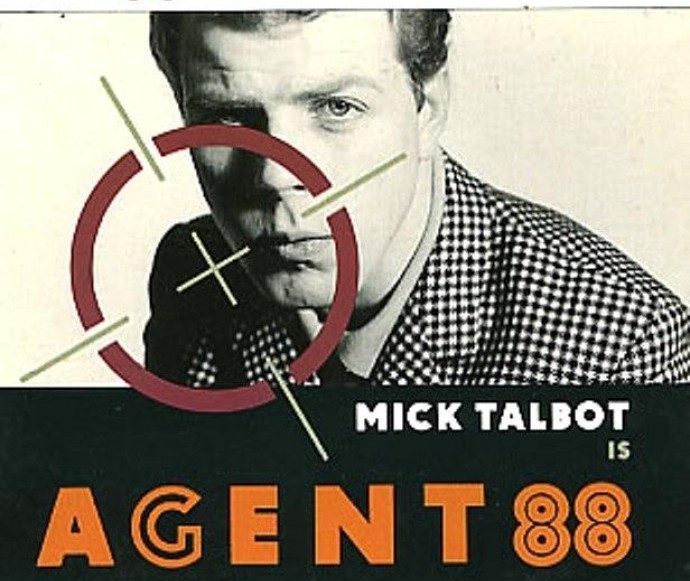 So that's settled then. Weller's creative peak was with The Style Council. My last post seemed to strike a chord. I figured that there was only one direction that my next post could take. The Style Council was not all about Weller. It was also Mick Talbot's show. Master of the Hammond organ, a proponent of strong jazz-funk, all-round nice bloke, and someone that can really wear a hat – Mick Talbot deserves your respect.
With a CV taking in The Merton Parkas & Dexys Midnight Runners, Mick Talbot wasn't just 'a sideman' in The Style Council. He brought his own gravitas, and was clearly a major influence in the change of direction which Weller's writing took after The Jam. The Style Council sound, as first unleashed on 'Introducing The Style Council' was shot through with heavy Hammond from the start. The tune 'Mick's Up', featured on this debut release, pretty much nailed Hammond funk. Mick killed it. This track stands up against tunes by organ masters such as Reuben Wilson, Johnny Hammond and Ramsey Lewis (whose 'Do What You Wanna' I have dropped next to 'Mick's Up' a few times at freethinking nyc). 'Mick's Up' made it clear – The Style Council was not The Jam. At all.
There were more tracks which stood out as being 'Mick's' throughout The Style Council's recording history, from 'Homebreakers' (featuring his vocals), through to the organ which lends the title track to 'The Cost of Loving' it's highlight. Even following the demise of The Style Council, Mick Talbot's contribution to Paul Weller's sound was unmistakable. 'Strange Museum', from Weller's debut album is for me all about the organ.
So while I've gone on record to say that The Style Council for me does define Weller's creative peak – can the same be said for Mick Talbot?
Do you know – I'm not so sure…
Free from The Style Council, Mick Talbot was able to bring his mercurial keyboard skills to other projects. Alongside Steve White – Weller's long-standing drummer, and Talbot's bandmate in The Style Council – Mick deepened his jazz-funk sound. While Weller was getting back to his mod roots, and influencing a generation of Brit Pop artists, Mick Talbot was cultivating a groove. Talbot and White eventually expanded, with this addition of Damon Minchella (from Ocean Colour Scene) on bass, and Aziz Ibrahim (who picked up from John Squire in The Stone Roses) on guitar to become The Players. A terrible name, but a truly great band. They knocked out some deeply funky material – including a spellbinding cover of Roy Budd's theme music from 'Get Carter'. I caught them playing this live, and was floored.
But it wasn't just a rich seam of organ-led funk which Mick Talbot mined after The Style Council. For me, part of the reason that I struggle with noting Mick's time with Weller as his creative peak lies with Galliano. In my opinion, they were possibly the finest band to come out of the UK in the early 90s. This was exciting music – music which relied heavily on jazz roots and overlaid hip hop to drive a completely different outcome to Guru's 'Jazzmatazz' project. It sounded of London. While they had a rotating lineup, the constant ringmaster was Rob Gallagher. Crispin Robinson provided the percussion. Ernie McKone (of Boogie Back records) provided the bass. Crispin Taylor provided the drums. Valerie Etienne's sublime voice played off the vocals of Rob Gallagher and Constantine Weir. To this, Mick Talbot's keys provided weight.
Let me return to the start of my post. Mick Talbot is not only a proponent of strong jazz-funk, but also an all-round nice bloke. I have great memories of interviewing him for my university radio station. While I interviewed quite a few people during the mid 90s, Mick Talbot is absolutely the one which stands out. The reason is clear – he was so genuine and down to earth. It was all about the music. Look at his track record. His influence was huge. His output staggering. But, bar a few years standing side-by-side with Weller, he's very much in the background – casting his spell via the keys.
Mick Talbot: effortlessly cool.

Mick tearing up the Hammond with The Style Council

Mick with Galliano – outstanding

Not great quality, but a funk workout from The Players