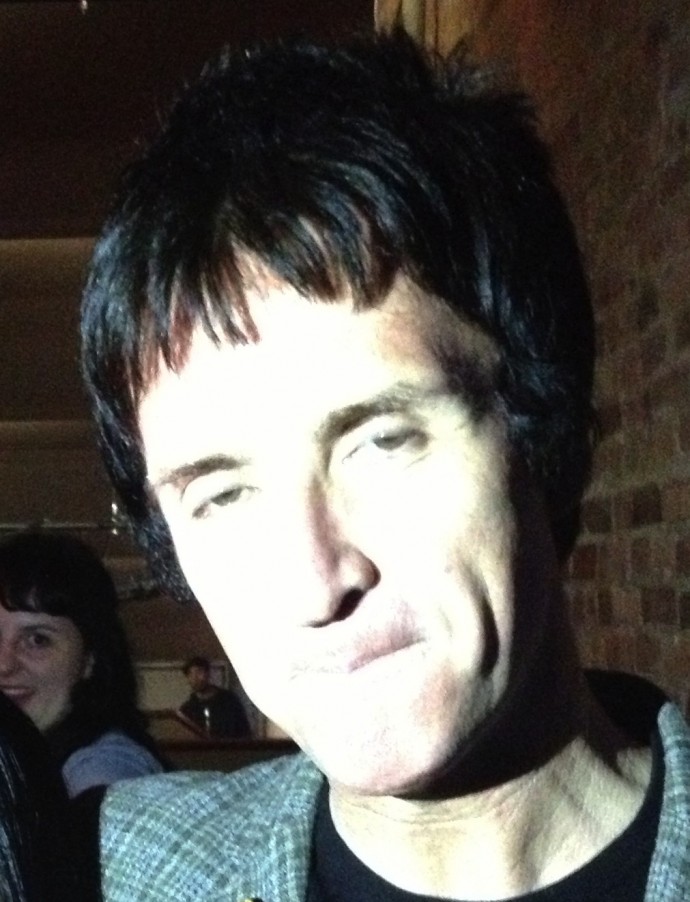 Last week, there was an article in The Guardian which made reference to Williamsburg as being 'The World's Hippest Neighbourhood'. It was fortuitous timing, for on Friday night the claim on this title could not have been any clearer. The substantiation of the claim wasn't based on the creatively hirsute twenty-somethings, or the skate-boarding dads. No, on Friday night the Johnny Marr bus rolled into town…
Along with 500 of my (now) closest friends, on Friday night I witnessed something truly astonishing. It wasn't just that Johnny Marr blew the roof off a tiny venue, it wasn't just that he tore through his solo material as well as classics from Electronic and another band called The Smiths, it wasn't just the energy, the approachability, the virtuoso guitar playing. No, it was also that Johnny Fuckin' Marr was joined on stage by Andy Fuckin' Rourke. That's half of The Smiths. On stage. Together. Playing 'How Soon Is Now'. With none of the nonsense that accompanies their old band mate when he shares his questionable worldview.
Morrissey who?
So, let's tick off the high points. There are many of them, so bear with me.
'Stop Me If You Think You've Heard This One Before' is a belting tune, and, as the first of a handful of The Smiths tunes rolled out during the evening, it also marked the point at which I for one truly felt that Morrissey wasn't missed. The lyrics are so familiar, and Morrissey's voice – both in vocal delivery and lyrical context – is so unique, that it could be jarring to hear someone else's delivery. But, hell no. These tunes are as much Johnny Marr's as they are Morrissey's – and I'll be honest… the last couple of times I've seen Morrissey he's been a shade disappointing. Johnny Marr more than held his own.
Jumping to near the end of the set – the rendition of 'I Fought The Law' showed an uncanny ability to select a tune which would make the room collectively regress into a frenzy. A collective acknowledgement that Johnny Marr the songwriter was tipping his hat in the direction of another classic. And, he nailed it.
'Getting Away With It' became heavier, more overtly guitar-led… and it was a peach. Electronic were a cracking band. Thom Yorke may have his feathers ruffled if people refer to the (frankly boring and self-absorbed) Atoms For Peace as a 'supergroup'. The collision between The Smiths and New Order, with a little help from The Pet Shop Boys (and, A Certain Ratio on a couple of tracks – people don't talk about that) was far more than a supergroup. 'Getting Away With It' is almost a Manchester anthem – defined by the sweep of the strings. Hearing this stripped back, and amped up as a rock staple was stunning.
So, I've talked about The Smiths, Electronic, and a cover. Johnny Marr's new solo material sounded ace. Properly ace. I wasn't exactly disappointed when I heard 'The Messenger' for the first time – but I did think it was an album that lacked something of the creative spark that you'd hope for from Johnny Marr. But, by Christ, when the new material was rolled out on stage it was riveting. It sounded absolutely right, side-by-side with other more well-known output. Let's be honest, most people were standing there waiting for 'How Soon Is Now', 'There Is a Light That Never Goes Out' or 'Bigmouth Strikes Again' – and they weren't disappointed. When he sang from the back catalogue from one of the most important bands of the 80s, there was no place in the world that you'd rather be. Given the level of fandom, and the expectations held for the evening, new material always presents a challenge. The tempo was relentless. Everything from the new album – and I truly mean everything – sounded like it belonged in the set. When that set includes some of the best music written in the last thirty years, this is high praise, indeed.
Morrissey isn't exactly known for his joyous demeanour. He can be a right miserable sod on stage. I remember seeing him in Hyde Park, as he complained about 'the smell of rotting flesh'. I've seen him walk off stage, basically in a hissy-fit, not to return. I've seen him essentially make it clear that he doesn't really want to be there. We still love Morrissey, despite his many flaws. I look past the incendiary, headline grabbing rants. But, you still cringe at the prospect of what he might say whenever he decides to engage with the audience. With Johnny Marr on Friday, however – it was a totally different story. Mancunian charm oozed from the stage, as Johnny Marr regaled the audience, as he joked, as he spoke from the heart – especially when he spoke of 'his best friend' while introducing Andy Rourke to the audience. Here we are, two days later, and I am still reeling at the notion that I saw half of The Smiths play 'How Soon Is Now'. That's HALF OF THE SMITHS. Magic.
I am a little cautious about going into the final recollection of the evening, but I'm going to. You might hear a 'CLANG!' as I drop this in, but I hope you'll forgive me. You should always be careful in meeting your idols – disappointment that way lies. But, on Friday, thanks to some good friends, and their connections, Friday brought my wife and I face to face with both Johnny Marr and Andy Rourke… and they were both completely sound. We chatted about Manchester, about living in New York, and about footballers with their ludicrous cars and houses. It was a perfect end to a night which – for so many reasons – I won't forget. Why won't I forget it? I spoke with two of The Smiths after they had just appeared on stage together. That's HALF OF THE SMITHS.
There was one thing missing. One thing. I've read a lot about 'The Messenger' being Johnny Marr's debut solo album. Nope, that'll be 2003's 'Boomslang'. OK, it's 'Johnny Marr + The Healers', but it's materially the same band that he was performing with on Friday. The one thing missing in the set on Friday – and if this is the only fault I can find, it's not a bad result – was album highlight 'Down On The Corner'. If you haven't heard it, you should absolutely check it out.
Who put the 'M' in Manchester? It was the same bloke who put the hip into Williamsburg: Johnny Fuckin' Marr.