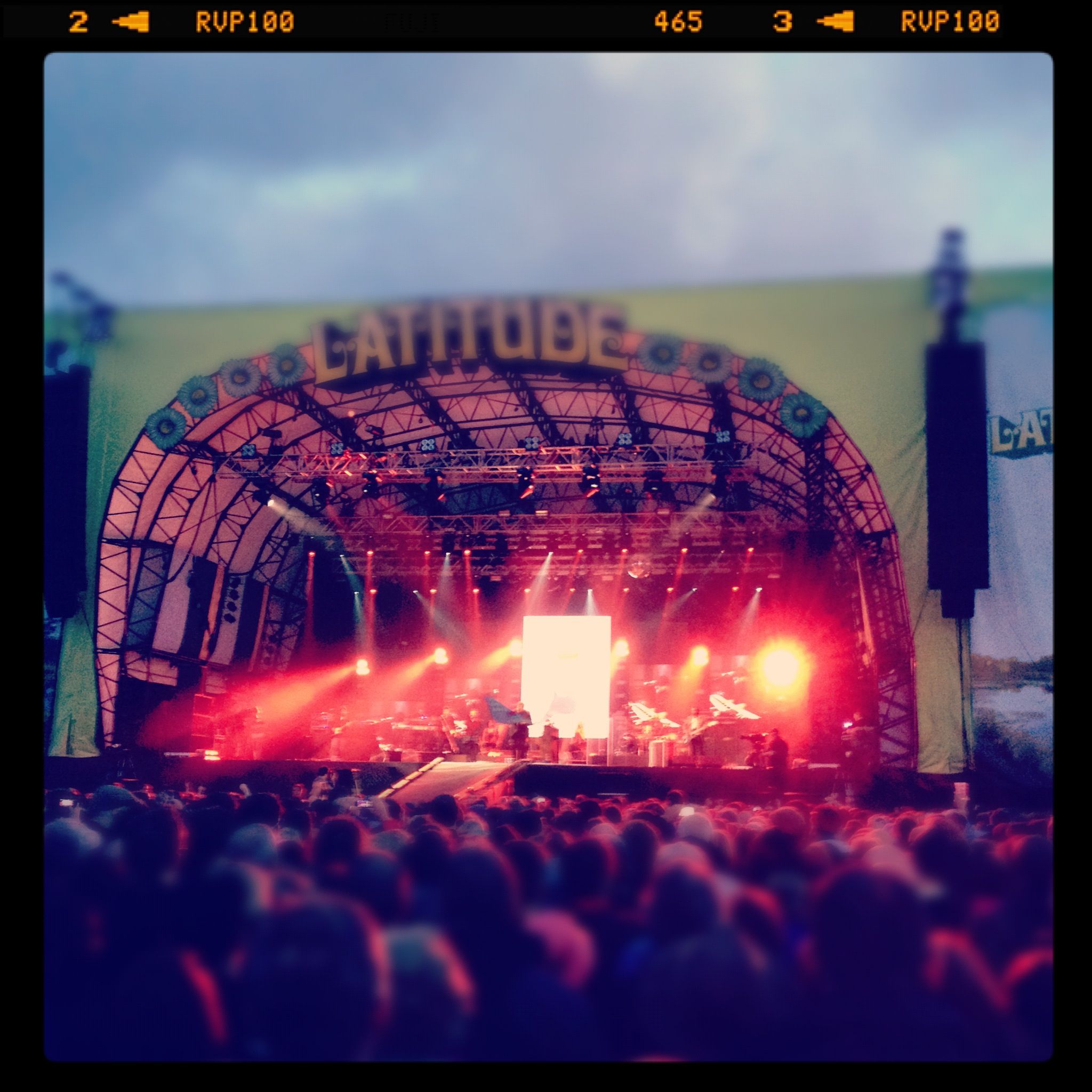 OK, I'll come clean. While the summer has been more than a little hectic, I did manage to squeeze in Latitude. All very last minute, all very opportunistic. Despite the trenchfoot-friendly conditions, I'm chuffed to have made it. A festival with headliners including Weller and Elbow? Count me the hell in.
Latitude is becoming firmly rooted as an essential part of my summer. A chance to stand in a field, with a bunch of friends, battling through crappy weather, drinking overpriced beer, eating junk, and listening to some bands you've never heard of. What's not to love?
It's been two months since the festival. Some may say that the moment has gone, and that I should be writing about a topic that's more up to date. All I can say in my defence is this: the first topic I wrote about on the freethinking movement was 'Sail On' by the Commodores. I was only about 30 years late on that one. A month or two is just fine.
Festival logic: you're going to miss a ton of bands that you wanted to see. So, for me, Yeasayer, Daryl Hall (stop, come back – there's a curiosity value there!), and Wild Beasts were all missed. It's part of my rationale for Glastonbury just not being on my 'must-do' list. I know that I'd miss too much. I'd spend too much time fretting over what I was missing, and would fail to enjoy the moment. Wild Beasts were – for me – one of the big draws for Latitude. But, given a straight choice between Kendal's finest and Weller, there's only one way that this bear is going to go…
You're also going to see bands that you had no idea about, and that impress you. Taking up that position this year we have St Vincent. She was the batshit-mental sister of Anna Calvi. I'd heard the name 'St Vincent' from the forthcoming collaboration with David Byrne, so was intrigued to hear who he was working with. I wasn't expecting the untethered fury I witnessed. Bring that collaboration on.
And, you're going to see some toss. Rufus Wainwright was always on a shaky foundation for me – but his 'highly anticipated' mid-day slot on the Sunday was truly woeful. I don't get it. I really don't. I try to approach music with an open mind, I really do. But his sub-show-tune carnival was tiresome. There were three songs: the slow one, the 70s disco one, and the Broadway one. Just with what appeared to be countless iterations. It was life-draining.
But, mainly, you're going to see a bunch of bands that you're excited to see in a festival environment.
Sharon Van Etten was wonderful. I'll admire anyone who can open a stage for the day, playing to a clearly hung-over crowd, and still managing to cut it. Totally ace.
Richard Hawley, basking in the glory of what will surely be one of the finest albums of the year, continued to grow his National Treasure status. His new material shone in the late-afternoon slot he was afforded. Honestly, he should have headlined the first night – the goodwill in the crowd towards him was tangible. I don't think that there was a person in the audience that didn't want to just sit down and have a beer with him after the set – it was astonishing.
SBTRKT was a revelation to me. I'm there with the album – it's great. But, I didn't expect a live performance to be anywhere near as good as this. One of my friends had this down as the highlight of the festival. It's hard to argue.
Alabama Shakes were a slight disappointment. Drawing an unfeasibly large crowd for their early afternoon set, they nailed a few tunes. And, then it all just got a bit samey. I'm still loving that there's a band which has picked up where Kings of Leon left off after their first album, and became a bit bobbins. The fact that Alabama Shakes age combined feels like they'd still be younger than me gives me cause for concern. The upside: I expect more – much more – from them. They will be better the next time I catch them, or there will be harsh words.
Scroobius Pip provided my main foray into non-musical entertainment this year. OK, I realise that a spoken-word set from this modern poet is hardly stretching my culture-consumption, but it'll do. I've got a ton of respect for Scroobius Pip – and his ability to hold the attention of a (probably) drunk audience at 11:30pm with poetry speaks volumes.
I had low expectations for what turned out to be a festival highlight. I'd all-but written Bat For Lashes off, following a lacklustre performance at the start of the tour for her last album. Now, re-invigorated, with a new band in tow, she's ready to rugby-tackle Florence to the ground, and rightly claim the title of Heiress to Kate's thrown. There's always a danger playing new material to a festival crowd – unreleased new material, at that. It was immense. The crowd lapped it up. Natasha, I'm sorry for ever doubting you. Bring that new album on. I can't wait. (And, for the record, the front cover of your new album is A-OK in my book, too).
File under 'surprisingly good': the 1-2-3 nostalgia-fest of Llyod Cole, Thomas Dolby and Simple Minds. It's hard to dislike Lloyd Cole – and his set totally nailed what would be expected. Acoustic renditions of tunes that the audience pretty much knew word-for-word – but delivered with the confidence and ability of someone who's been doing this for a while. It was a lesson in how to get on stage and just bring the goods. Top. Thomas Dolby was slightly less on the money – mainly as he fell-foul of the pitfall of playing too much new material in a very short festival set. It was still great, don't get me wrong, but there was a creeping sense in the audience of when's he going to play 'She Blinded Me with Science'? As for Simple Minds – I was never a big fan. At all. I didn't have a strong dislike for them, but beyond early material that my brother had ('Empires and Dance'), there was just not much room for them in my life. It was a pleasant surprise to hear a band that clearly have much influence to claim over huge acts from the 90s.
And now, the difficult paragraph: I'm going to do the unthinkable. For those who know me, or have been regular visitors to these pages, you'll know that it's hard for me to write this. Despite being a major contributing factor in me making the trip to Latitude this year, Elbow were a let down. I'll give you a moment to gather yourselves. Here's my beef. Elbow are a band 'at one' with their audience. Their music has a central truth that's at the core of their appeal. They deliver it with such everyman sincerity that they have won the hearts of the British public. Given this, a vanity ramp is so much at odds with the band, and what they represent. I know this sounds picky, but it places a divide between Elbow and their audience. It's unnecessary showmanship. So, while the set was (largely) great, it was just shorn of a central plank. While it was good to hear 'Leaders of the Free World' given another outing, it was a shame to see how Scattered Black and Whites was treated. It's one of my favourite songs. Guy Garvey introduced it with emotion, proclaiming that the band 'means this one'. And, they do. It's just a shame that Guy then proceeded to get the words wrong. It's also unfortunate that this poignant evocation of childhood was chosen as the starting point for The Elbow Firework Display. It was just unnecessary, and felt like another step of showboating at odds with Elbow. It was the pyrotechnic equivalent of Guy Garvey throwing some jazz-hands into the mix. So, Elbow – still a musical highlight, but a let down for me.
Weller, on the other hand, tore into his final night headlining slot. A criticism I have of previous Latitude lineups is that the final night tends to finish on a bit of a whimper. Not so, this year. Weller maintained his ongoing renaissance. I don't know how or why this has happened, but the fire is in his belly, and it's a joy to behold. One of the last gigs I saw before my summer hiatus was Weller in Times Square. He was phenomenal. I had built up the notion of a festival set to a level that he was unlikely to be able to deliver against. But, thanks to Art School, Eton Rifles, Start, In The City, and set-closer Town Called Malice, as well as a liberal dose of solo material that's maturing like a fine wine, he tore Latitude a new one. From my vantage point, it looked as though Weller loved every bloody minute.
But – the festival highlight came from the leftfield. Last year I called out Steve Mason as delivering the set to remember. This year, it couldn't have been more different. Continuing her distillation of Prince and James Brown, Janelle Monae mounted a full-blown assault on the main stage in a mid-afternoon set. She knows what she's doing, does this Janelle. She's nailed her 'show'. Arriving on stage to a perfect opening suite – 'Dance or Die' into 'Faster', the people in the crowd who didn't know what to expect had been given a slap in the face. A middle-class audience collectively sat upright, and was mesmerised. They were visibly taken aback – none more so than when she had the balls to cover Prince. 'Take Me With U' was a revelation. I've seen Janelle Monae before, and was already aware that this could be something special. But, in 'Take Me with U' Janelle Monae doubled down, and came out on top. Where do you go from there? You grow another set of lady balls, and belt out 'I Want You Back' – with all the style of little Michael in his prime. Miss Monae, I salute you.
I also danced like a mad bastard. With a beer. Good times.

OK – so this isn't from Latitude, but you get the point…