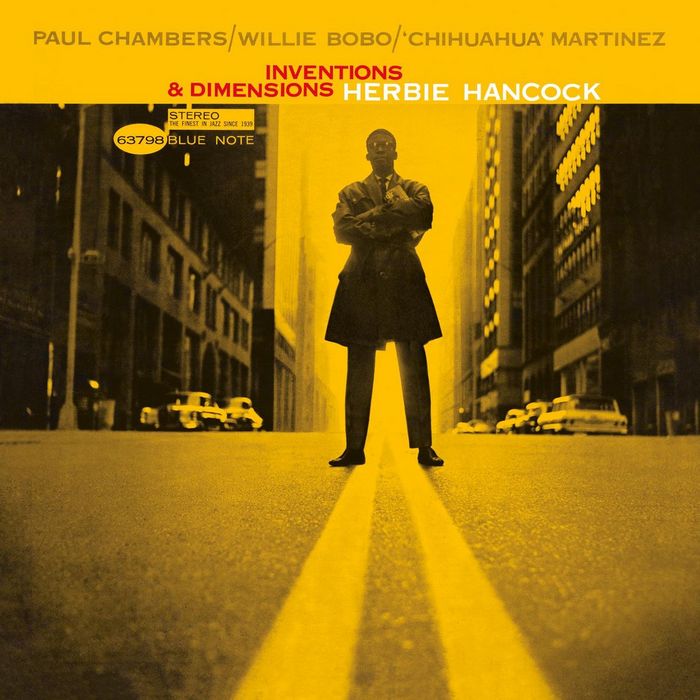 I'm not a religious man, but I do have an almost unshakable belief that having a pint on a Friday night is one of life's pleasures. Throw in a chat about music with a good mate over said pint, and you've got a winning formula for the end of a working week.
A couple of Fridays ago was a case in point. A conversation about jazz, about Roy Hargrove, about New York City jazz clubs, and about one artist in particular who – I am ashamed to admit – has yet to grace the pages on the freethinking movement. As soon as Herbie Hancock's name was mentioned, I felt the need to rectify it.
Seriously, how many artists are there who you could point to who were there in the formative years of jazz in the 60s, who were jazz/funk pioneers in the 70s, who were at the bleeding edge of electronica in the 80s, and who have maintained credibility throughout?
Herbie's jazz roots place him with contemporaries such as Freddie Hubbard, Ron Carter and Wayne Shorter. They place him with Miles Davis. They place him with spectacular work on a run of Blue Note releases that include the tracks 'Maiden Voyage' and 'Cantaloupe Island' (you'll know the piano hook the tune is built around, even if you don't know the track) and the tune that gave Deee-Lite the bassline for 'Groove Is In The Heart', 'Bring Down The Birds' – beyond any doubt, true classics from an age where there's an embarrassment of riches. Herbie was an innovator. A genius. Even with innovation on the scale of Miles Davis' 'Bitches Brew' – representing a seismic shift in jazz – Herbie was there.
And, Herbie led his own seismic shift in the 70s, most notably through the release of the breath-taking 'Head Hunters' album. With opening track 'Chameleon', Herbie essentially re-invented jazz, right there, right then. Built around a killer hook, 'Chameleon' showcased an outrageously funky troupe which Herbie had assembled. From Bennie Maupin's horns, through to Harvery Mason's drums, Paul Jackson's bass and Bill Summers' percussion – this was the start of something quite special. It wasn't jazz as the world had previously known it – this was Fender/Rhodes-led funk. A deep, deep groove cut through the proceedings. 'Chameleon' is such a remarkable piece of music, it's almost like the tune itself lives – aware that its very presence is heralding in a new era. Herbie Hancock, respected jazz musician, opened up to funk. And, by Christ, when he did the results were just pure magic. The funk was in more free flow by the time that the Headhunters themselves released 'Survival of The Fittest'. Under the watchful glare of Herbie, now on production duties, a slightly re-assembled line-up of the band behind 'Chameleon' knocked out an album which stands tall in the list of all time funk classics. The highlight from the album, 'God Make Me Funky', is nine and a half minutes of funk education. It's effortless. I genuinely throw the gauntlet down to anyone to point to a better slab of funk. It's about as perfect as it gets.
Not content with being behind some of the most memorable jazz releases, and with bringing the funk to jazz, Herbie had another ace up his sleeve. Jazz purists may have labelled his 1983 'Future Shock' as 'Future Shit', but it's an album that gave the world 'Rockit'. Ushering in yet another new era, this was a synth-friendly Herbie, bringing his jazz credentials to the world of electronica by way of funk. It may sound like a product of its time today, with primitive scratching and a very 80s set of production values, but 'Rockit' was massive. And, rightly so. I often feel that the context of exactly who Herbie Hancock was, and what he'd previously achieved, is overlooked when people think about 'Rockit'. This wasn't just a bloke knocking together a dance tune – this was a jazz legend embracing the future.
Hard jazz to funk to electronica: that's Herbie Hancock, defining freethinking.
Herbie didn't just move with the times, he helped to bring everyone else along for the ride. He stayed relevant. It's been nearly 20 years since I saw Herbie Hancock perform, but it sticks in my mind as one of the most impressive shows. The Phoenix Festival was only around for a few years, but it drew a fine line-up. In 1994 Galliano, Paul Weller, James Taylor Quartet, A Certain Ratio, Mother Earth, Roy Ayers and Herbie Hancock all did their thing. It's these last two that I want to draw on. Roy Ayers was, himself, a leading light of the jazz/funk scene in the 70s. Tunes such as 'We Live In Brooklyn, Baby', and 'Running Away' still work on just about every level. But, about twenty years on from this prime period, Roy Ayers just didn't cut it. He seemed to be holding on – to try to make his sound relevant. The same couldn't be further from the truth for Herbie Hancock – I remember being completely spell-bound as he tore through 'Chameleon', through 'Watermelon Man' – and possibly most memorable of all – a piano-led (with no synth in sight) rendition of a downright funk-filled 'Rockit'. This was Herbie not trying to cling to the past, or to make his sound more relevant to today, this was a true jazz great dipping into his vast repertoire and showing that at the very heart of his music it's not about a synth, or a clavinet, or a grand piano – it's about the guy playing the notes.
On that Friday night a few weeks ago, as me and my mate were talking about music, we also spoke about our plans for the weekend. I explained that I had some admin to do, and that it'd be a quiet one. When I asked him, his reply was 'I may just have a Herbie Hancock weekend'.
Hell, yes.