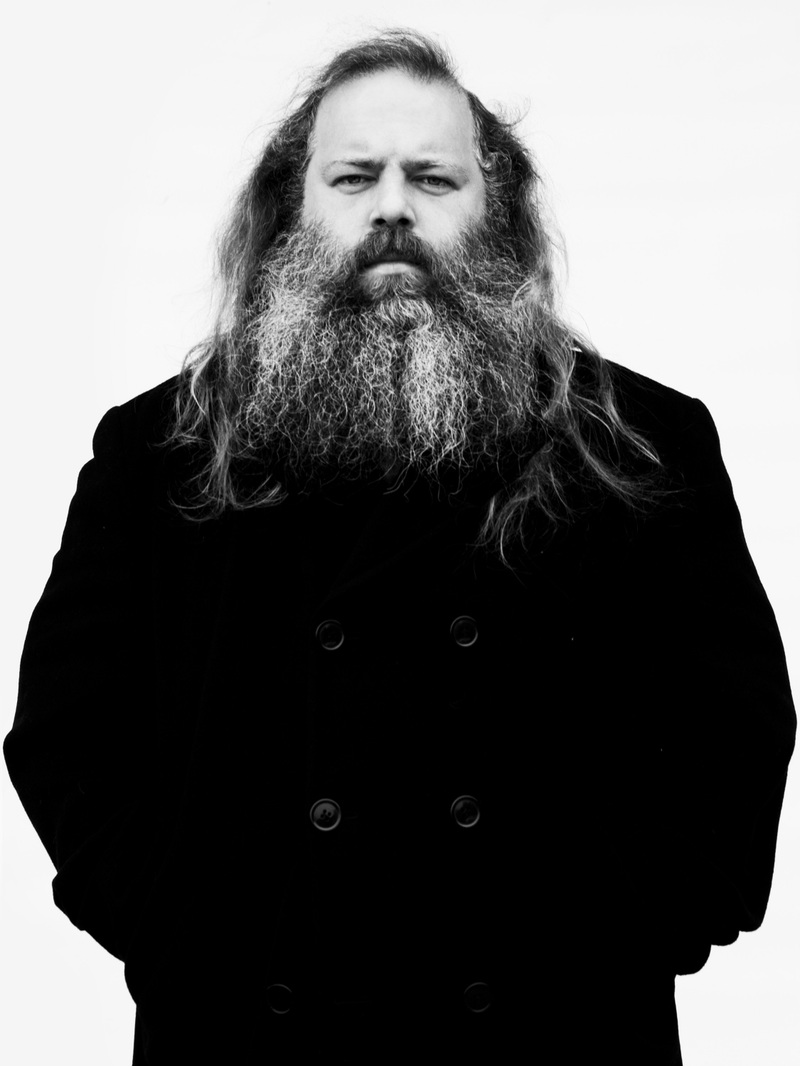 The chunky ZZ-Topping Roadie in Jay Z's 99 Problems video. He's Rick Rubin. You know him. You just don't know how much.
Beastie Boys:' "You've got to fight for your right to party". Johnny Cash: "Hurt". Chili Peppers: "Under the bridge" & "Give it Away". Run DMC:  "It's Tricky" & "Walk this Way". Adele, JayZ, Metallica, U2, Public Enemy, the Cult, Justin Timberlake, Mick Jagger, Tom Petty, Weezer, LL CoolJ (or Ladies Love Cool James), Slayer, the Dixie Chicks, Neil Diamond, the Gossip. He's a producer. A prolific one.  Look:http://en.wikipedia.org/wiki/Rick_Rubin_production_discography
Discovering the extent of this man's talent is like learning the importance of Quincy Jones all over again. I've had Wikipedia minimized on my screen all day to keep stealing Rubinness when nobody's looking.
Sure he's the CEO of Columbia Records, but he's not a suit-wearing cigar-smoking inbred from Westchester. He got here because he's a craftsman with a head for business and complete conviction in what he thinks makes good music. Businessman, craftsman. It happens, and when it does, it makes me happy, because good things happen when you're clever and you know it, you care, and you don't channel your wisdom towards fucking people over for personal gain.
The fat bearded, barefooted man behind Californication, the revival of Aurosmith's career, (we'll overlook that), Def Jam records (with Russell Simmons) and Adele's 21 album. Quite popular that one – it's only been a top 5 album in, er, more countries on the planet than it hasn't. And if that's millions of folks setting fire to the rain, there'll be at least a few thousand having a listen in homes, cars and headphones as you read this.
It was Rubin that spotted the lyrics to Under the Bridge in a poem in Anthony Keidis's drug-addled notebook, Rubin who asked them to try something alongside 'rap infused with funk'. Even in Office Space when the leads brutally murder a fax machine to the sound of Geto Boys – the best part of the film – that was his tune too! Seriously?  How does the softly-spoken man from Long Island with Buddhist prayer beads and Crystals so successfully kill it again and again?
He explained in 2007: "I try to get the artist to feel like they are writing songs for the ages rather than songs for an album. For some reason, most people will write 10 songs and think, That's enough for a record, I'm done. When they play the songs for me, invariably the last two songs they've written are the best. I'll say, 'You have two songs, go back and write eight more.' "
Now here's that in practice: Jay Z's 99 Problems and Adele's Rumour has it. Both are raw but slick as hell. You hear every word. You feel the sinews tighten with their anger and you go through it with them. You feel pride and power being drummed into you.
Each song pulsates without having to shout, play tricks or use a godforsaken Voice Synth, the herpes-like audio plague of our times. Each song tells a story, and both dance over a repetitive, minimal backing beat and bass. Not too much, not too little, just a vehicle that shows their talent and power perfectly. That's production. No egos. Just bringing out the best in the music.
Rick doesn't need me to write him an ode, but please Rick, know I'm sending you gratitude and happy vibes from the Middle East. Thanks for everything you've shown us so far.