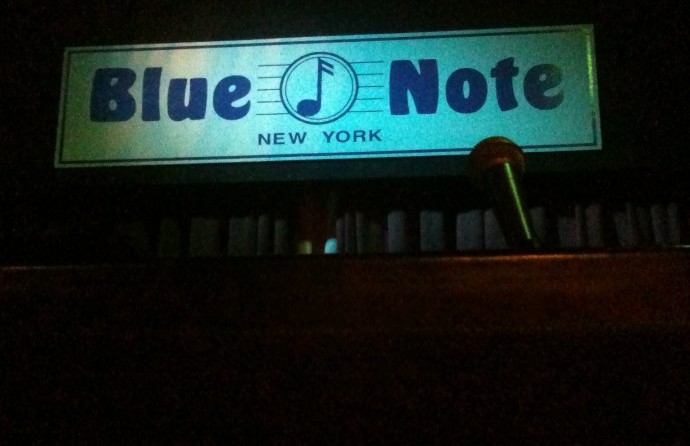 May 27, 2011. The day that a true freethinker left the building. We're all poorer for it.
My words just won't hit the mark, here. When someone of the importance and stature of Gil Scott-Heron passes, you want to look to people with the intelligence, heart and insight of the man himself to capture the situation.
The last time I saw Gil Scott-Heron was at the Blue Note in NYC. I was alone, sitting right below the mic – and I witnessed a spellbinding couple of hours. No longer the angry young man, but no less powerful for it, he played the stripped down set that the last few years have seen as his standard. He sang with the same passion, the same intensity, but with a fragility which added another dimension of power to the lyrics.
He told a story about Stevie Wonder – a story which seems particularly relevant today. Gil Scott-Heron joined Stevie Wonder for series of concerts at the centre of the campaign to recognise Martin Luther-King with a public holiday – a series of events which Gil Scott-Heron chronicled in the unpublished book 'The Last Holiday'. He told the story of Stevie Wonder, just as he's about to go on stage to perform the headline set, hearing the news of John Lennon's death. He told of Stevie's true sadness, and his difficulty to decide on the right thing to do. In the days before mobile communication, the audience would be oblivious to the news, but this was someone who Stevie saw as a friend. He took the decision to play on, and to not mention the news to the crowd until the end. He told of the heartbreaking moment, at the end of the set, when Stevie stood in front of the audience, and informed them of the passing of his friend. He told of the tears streaking Stevie's cheeks as he shared his own personal thoughts. And here, Gil Scott-Heron used one line to articulate how Stevie spoke to the audience. One word which spoke of the admiration that Gil Scott-Heron had for Stevie's ability to connect with the audience, to speak from the heart, and to open up to his inner feelings:
'Hearing Stevie speak – it was like jazz'.
When Gil Scott-Heron had a story to tell, you listened. When he saw social injustice, he tackled it. When he shared his innermost thoughts, you drank it up. When he sang, he owned the room.
When Gil Scott-Heron spoke, 'it was like jazz'.