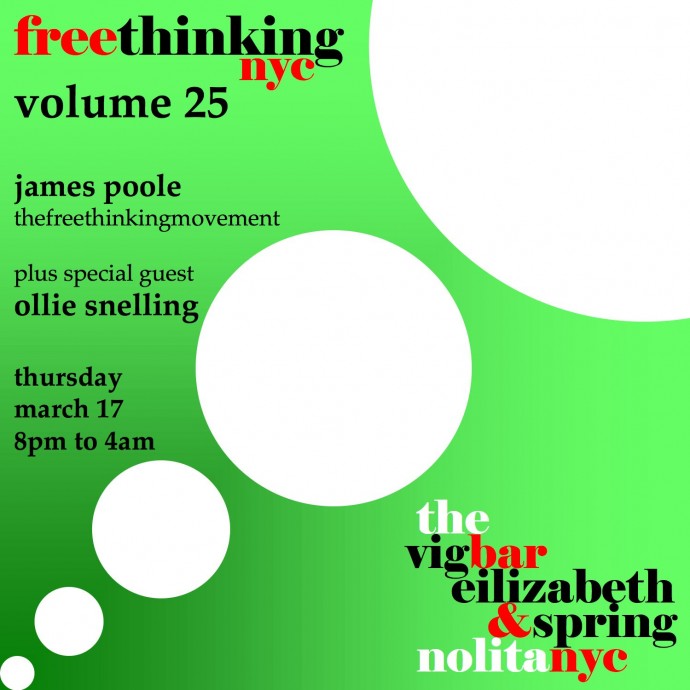 Bringing it back.
freethinking nyc, volume 25 hits New York City on March 17th. Coming to you from the new home for freethinking nyc – the vig bar – volume 25 will be a special night.
It's St. Patrick's Day – so expect a big night in NYC. For freethinking nyc, volume 25 – expect a night of funk. A night of soul. A night of rock. A night where any and every style of music will come at you – as long as it's got a certain something. It's not about being cool. It's not about playing the same music you'll hear from top 40 DJs all over the city. It's about bringing the real stuff. New music bumping up against lost classics.
Stepping up to the freethinking plate, and joining James Poole for volume 25 is NYC-based DJ Ollie Snelling. With a background that includes sets at NYC's Bar 13, Meatpacking District mainstay 675 Bar, and Hive in London, Ollie will be bringing a house-tinged disco flavour to the proceedings. Keeping it fresh.
Expect Guru. Expect Everything Everything. Expect Larry Young's Fuel. Expect Lee Fields. Expect The Smiths. Expect Sun Ra. Expect Roxy Music. Expect Foster The People. Expect Marvin Gaye.
Bring an open mind.
the vig bar
Elizabeth & Spring, NYC
Thursday, March 17th
8pm – 4am
NO COVER