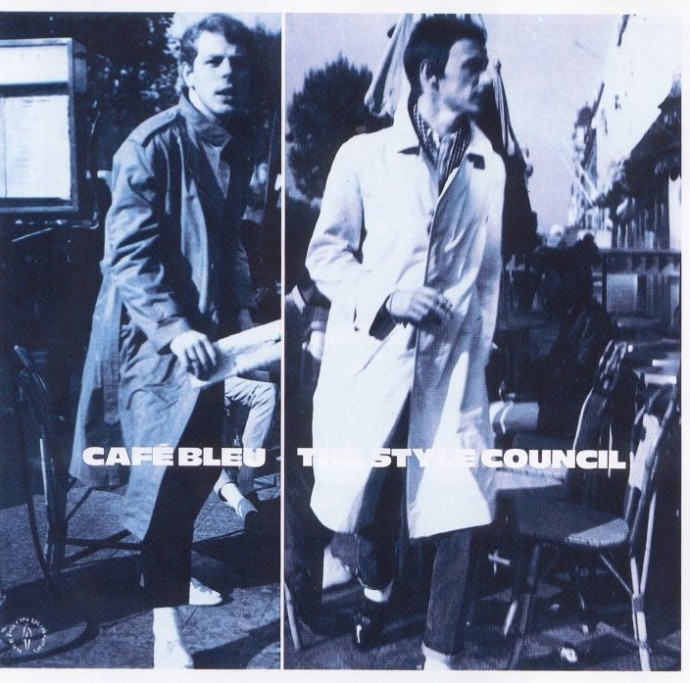 "Paul Weller was at his most interesting and rewarding with the Style Council, wasn't he?"
So wrote a friend of mine on his facebook wall a few weeks back. It's a statement which would probably have many a Weller fan up in arms; demanding that the entire period that Weller spent flanked by Mick Talbot, D. C. Lee & Steve White was a dark time, and should be erased from memory. This was a time of Red Wedge, of videos containing Paul & Mick all but relaxing the gentleman's way together while punting, of (would you believe it?) chart-friendly pop.
But, let's be honest, my mate has a point. This was also the time of Weller embracing soul, of Weller dipping his toe into new genres (Hip-hop! House!), and of chart-friendly pop which still stands up today. 'Speak Like A Child' should win the argument alone.
Yes, The Style Council were bang on. As I write this post, I'm reacquainting myself with some of the tracks I've just not taken the time to listen to in years: the funk of 'Fairy Tales' from 'The Cost Of Loving', the minimalist sweep of 'A Stones Throw Away' from 'Our Favourite Shop', the laid-back jazz of 'Changing Of The Guard' from 'Confessions of a Pop Group'. Throwaway album tracks, or signs of a band that were brimming with ideas? I know where I stand on this.
There were times when the innovation mis-fired (the aforementioned 'hip-hop' experiment was less than effective, in my opinion – and as for 'A Gospel' from 'Café Bleu', the less said, the better). But – I'll give you three arguments as to why I'd still embrace the entire catalogue:
1) The share of mis-fires is relatively low. Six albums, and only a handful of tunes that I would hold up as being rough around the edges? Not a bad hit rate, that.
2) Weller was tyring – this wasn't lazy music. More often than not, the mis-fire is purely as a result of creative juices clearly operating at full-tilt. All that was missing was a filter – and this was only a few times.
3) It's Weller. He earned the right to do whatever the hell he wanted to.
So this final point really hits to the centre of the point that I made on my mate's facebook wall. Afer careful consideration, the full weight of my argument was: 'Weller could fart in a jar, and I'd be happy'. I know I am unable to really apply a critical eye to Weller. He's just good.
The conviction I hold for my ability to enjoy the sound of Weller farting in a jar was put to the test this weekend. It was put to the test by the piss-poor sound system of 'The World Famous' Apollo Theatre in New York. I'm not the person to provide a balanced view of the concert. I will say that it was great. Maybe not the heights of the performances he was cranking out around the time of 'Stanley Road' – but when Weller kicks off, you just know that there's not another concert taking place right at that moment where you'd rather be. For a more subjective opinion, I'll relay the thoughts of a friend who came to the concert with me. Now, I need to put into context that he's not a Weller fan (I even think that he may have said that Weller was 'like Phil Collins' – though I may be doing my mate a disservice my mis-quoting him completely). He came to the concert largely to experience 'The World Famous' Apollo Theatre. He loved the show. Genuinely. It's about as big a positive vote as you can get: a non-Weller fan – someone who stated bemusement at the levels to which people hold Weller aloft with God-like status – liked it. He liked it a lot.
With a set spanning his entire career, it was also a great opportunity to weigh up the merits the facebook missive which kicked this post off. We had 'Pretty Green' and 'Start!' from The Jam, 'Shout To The Top' from The Style Council, 'Into Tomorrow' from early solo Weller (The Paul Weller Movement, if you will), and 'Aim High' kicking off the proceedings from 'Wake Up The Nation'. We even had a nod to the venue, with Weller knocking out an outstanding rendition of 'How Sweet It Is' in honour of Marvin Gaye. It all went down well. Even the lesser-known tracks were well received. But then, a packed audience of Weller enthusiasts are hardly going to be the most challenging to win over. In among all of this, for me there was one clear highlight.
"Paul Weller was at his most interesting and rewarding with the Style Council, wasn't he?"
Yes. 'Shout To The Top' was bloody marvelous.