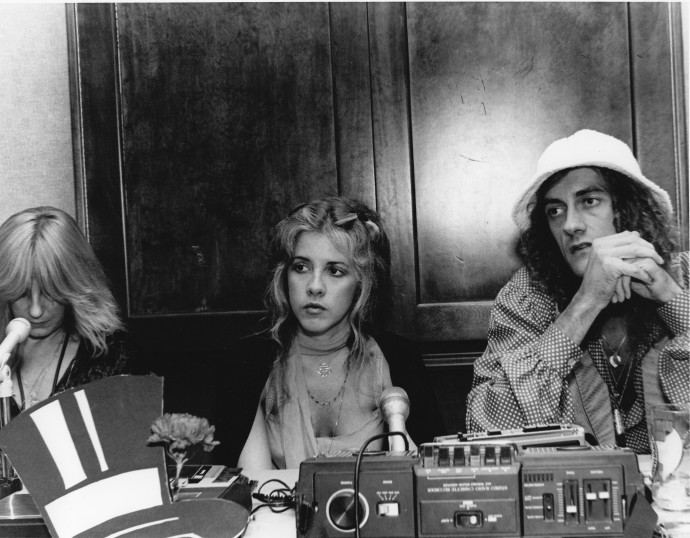 Both James and I have admitted a bunch of musical stuff here from our past. I've told of my almost trading the Beastie Boys Paul's Boutique away, James has admitted his love for Prince and Motown, among other things. I've had this discussion with a few people on several of my DJ nights, even playing a few really good remixes of this artist. Albiet they were more on the House side, when each one of the remixes kicked in, people knew right away what was going on. I've thrown them on my Tasty Beats Nights to a packed dance floor that let out a roar when the vocals started. I'm talking about Fleetwood Mac, a Classic Rock band that made one of the best songs (and my personal fave bass solo) ever in my opinion. They may have had a hard time getting together as a band, but this song was the only one they all collaborated on, and IMHO, I think it's their best.
Growing up we listened to music on a Panasonic receiver and turntable with Sansui speakers my father got overseas when he was in the military. We listened to everything from Booker T. and the MG's to Stevie Wonder to Iron Butterfly to the Doors to Bert Kampfert and his Swingin' Safari and beyond on vinyl. When the cassette revolution kicked in and my Dad would bring music by the Doobie Brothers, Billy Joel, The Cars, and Fleetwood Mac: Rumours among others in his truck as we went on Sunday rides. My sister and I would take the cassettes and listen to them on an old cassette player my Mom used to listen to tapes my Dad would make in Vietnam and send home. Here is where I first heard "The Chain". A brilliant piece of music that I would not grow to appreciate some 30+ years later. I started working with a guy who would tout this tune as the greatest thing since sliced bread. When he played it, I remembered it from my youth. What a thrill to hear this song once again, but to really be able to appreciate the tune as a true work of genius. So yes, I do admit that I do groove to some Fleetwood Mac, especially the chain now and again. If you're lucky I just may close the night with it at some point.
The thing here people, is that great music comes in all forms, it doesn't have to have auto tune and pitch control to actually be good. It also doesn't have to be obscure, played on a saw, or theramin, or by someone who you've never heard of. Sometimes it's right under your nose. Keep on freethinking.
The Chain in all it's glory.