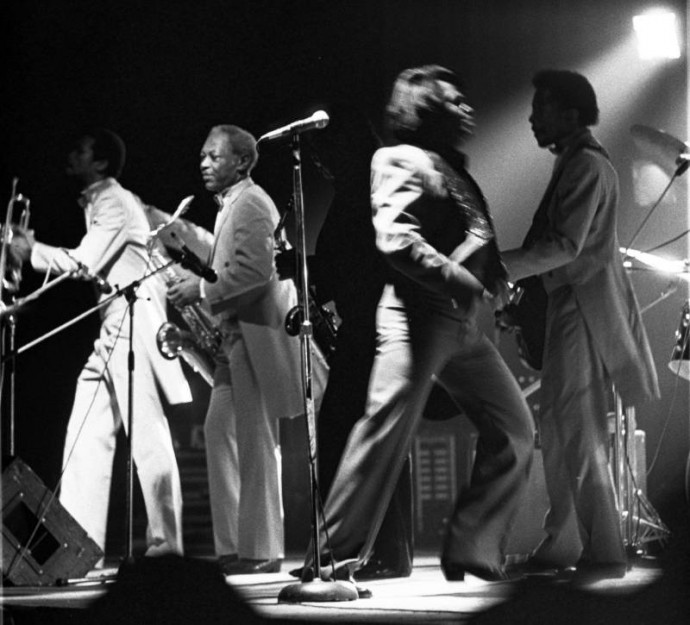 Can it be nearly five months since we started this? freethinking nyc, volume 1 took place in May. We've seen the summer through, and are about to kick into the full splendour of Autumn in New York. We've had some great nights, and the blog posts have been well received. We've brought you unheard tracks by Nicola Bright-Thomas, outstanding new UK hip hop from Mystro, and waxed lyrical about a host of bands which are special to myself and DJ Prestige. The nights have seen us bring out a heap of funk, soul and jazz – and mix it up with tunes by UK electro pop acts from the early 80s. We've payed homage to Johnny Pate. We've laid down more James Brown than is probably reasonable. We branched out to the hipster-ville that is Williamsburg for freethinking bklyn. We've given you a couple of mixes (and there's more to come…). We've even had Hollywood A-listers (including Kevin Spacey) in on the Kush Thursdays. I think we can say that the first five months have been good.
So as I sit here, I am admittedly a tad perplexed. How the hell could I have gone this far without calling out what is, for me, the Holy Trinity? Last weekend I had a friend explain that he wasn't sure what invites were appearing in his facebook profile, as he thought there was a religious movement which was asking him along to a regular Thursday night event. Well, in a way, he was right.
The Father is James Brown. He has to be the father. Consider the sweeping change which he ushered in. Music simply wasn't the same once he got hold of it. Bringing a range of influences together, from gospel to soul to R&B (real R&B, not the stuff which dominates the world of MTV these days), James Brown, along with his co-conspirators (such as Maceo Parker, Clyde Stubblefield, Pee Wee Ellis and Fred Wesley) brought the funk. They made something beautiful. They made something new. I simply can't picture the excitement of hearing some of this material for the first time in the golden period for the JB sound. Consider, on top of that, the very real impact that James Brown had on social issues in the US – his voice mattered – and you're there. This is why he's the Father. Hell, he couldn't even just die on a normal day. No, I bet he chose to go on Christmas Day.
And The Son? It has to be Prince. Say what you will about his eccentricities – of which there are many – but he's bloody good. While his more recent solo material may lack the passion and genuine invention of his earlier output, his live shows are still a thing to behold. The guy just oozes talent. You get the feeling that he could walk out on stage, ask for a few requests, and just make it up. And let's be honest, some of that 'earlier output' is about as good as music gets. 'Sign 'O' the Times' is near on perfect as an album. Slap on pretty much anything from 'Parade' or 'Around The World in a Day' when you're DJing (as I have done just about every week at freethinking nyc), and you're guaranteed a happy room. There's nothing to not like. Taking the footprint of earlier funk, soul and disco, Prince brought a pop element to it. He did it with style. He did it with musicianship of the highest order. He did it in a way that nobody – and I mean nobody – has done since.
Finally, The Holy Ghost. This is perhaps the point that prompted me to write this post in the first place. It's taken me five months to bring him up – beyond a reference to Working Week doing a blinding cover of one of his true career highlights. If James Brown paved the way, and Prince picked it up – the person who was there, influencing from the side, even when he was no longer with us, has to be Marvin Gaye. His career involved straight ahead pop music – designed for chart success, but with unquestionable artistic integrity. His career involved paying homage to his influences, and being truly open a bout the path that he would like to take – if you have never caught his album of Nat Cole standards, then I encourage you to check it out. But it's when Marvin decided to take the reigns himself, and strike out with an album of epic importance, that he truly found his voice. 'What's Going On' still makes me shudder. Marvin's desperation, his exasperation with the world, his desire to give a voice to the people – it is truly incredible. Still. It made a difference then, and it still resonates now. Marvin took a successful career, and gambled it. He did what he wanted to do. 'What's Going On', while never bettered, served as a jumping off point to a run of albums which only served to further illustrate the artistic genius which had previously been somewhat sheltered. 'Trouble Man', a lesson in funk – 'Let's Get It On', filthy soul – 'Hear, My Dear', a failed marriage expressed through a disco workout. It's genius. And there's also the small issue of his voice. A definition of soul. There has been nobody even close since his death.
So, I admit it, the freethinking movement is somewhat religious. The next step – an annual holiday to commemorate the anniversary of the release of 'What's Going On'. Who's with me?