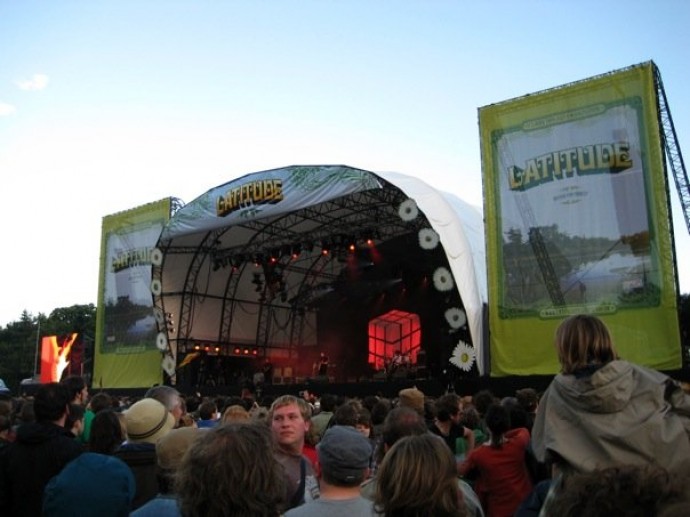 I'm gutted now. This weekend sees the Latitude Festival take place in the UK. I'm not going. It seemed like a good idea to pass up on tickets earlier in the year. Now I'm kicking myself.
Over the past couple of years, it's a festival which has treated me to some of my live music highlights:
Catching The Go! Team, and being unprepared for the outlandishly good demonstration of how you can pack a stage with a ton of people, and just have a bloody good time.
Seeing Squeeze give a masterclass in performing a 'greatest hits' set, and knowing that every note they played was spot on.
Being moved by a spectacular 1-2 punch of Elbow, playing at the peak of their 'Seldom Seen Kid' breakthrough, followed by Sigur Ros moving about 20,000 people to the edge of euphoria-induced tears.
Being blown away by the wall of sound that is Spiritualized.
But honestly, it's a bit unfair to even put the true highlight in the list. It's the mark of a musician when he can draw a capacity crowd, at noon on a Sunday, to the main festival stage. Thom Yorke's solo set at Latitude was practically a religious experience. I don't think that it was a coincidence that the crappy weather abated for his short set.
Let's be honest. Thom Yorke can pretty much do what he wants, and it'll work. To put into context, I was lucky enough to see one of the 'Atoms for Peace' shows at Roseland Ballroom earlier this year. His set at Latitude knocks this performance into a cocked hat. He knew that he had the entire audience in the palm of his hand, and he milked it. The atmosphere was one of recognition that we were seeing something truly special. We were being treated to something magical right there, right then. In between the pissing rain.
If you're going to Latitude, enjoy it. I know I'll be missing out.