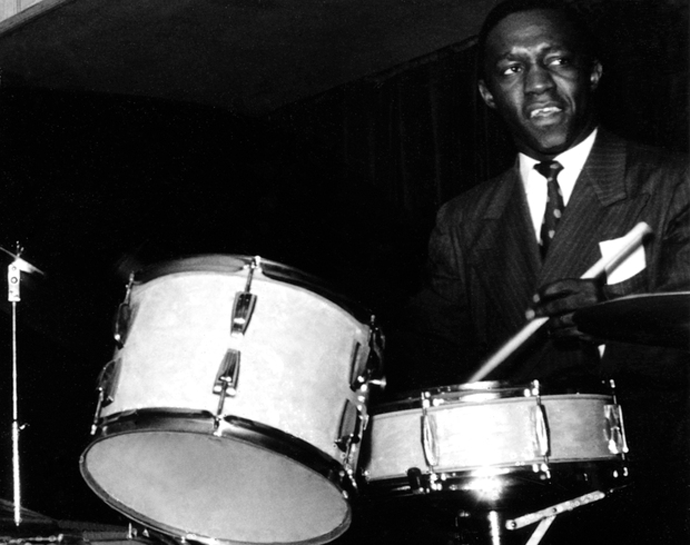 The Original Funky Drummer Art Blakey
Over the last few weeks I have been listening to a great big pile of music. First and foremost, I have been listening to an awful lot of Jazz, specifically Hard Bop. I've been revisiting artists like Art Blakey & the Jazz Messengers Ugetsu, At the Jazz Corner of the World, as well as Moanin' and Indestructable. I've also been hitting up musicians such as Barry Harris (Newer than New from 1961) and Kenny Dorham's Afro Cuban. I've always been a huge Jazz fan, and the Blue Note label has long been a sweet spot for me, so discovering some new (old) gems is just a bonus. Jazz is something that I can listen to every day, whether it's driving in the car, riding on the train, or as of late, tuning out the world in the MOMA here in NYC and blasting Free Jazz in my headphones. I've also given the new Sharon Jones and the Dap Kings a listen a few times since it's release, and I will say that they are sounding a lot more Soulful on this latest record, which makes me happy. It's a more mature sound, and dare I say a freethinking sound?
I recently had a quick read through the 33 1/3 series book about the Beastie Boys Paul's Boutique. I have been a fan of that monumental record since it's release (although I believe at first listen I almost traded my green cassette in, but decided to hang on to it thankfully). Always intrigued by the Dust Brothers sampling, I have found a few gems I haven't listened to in quite a while. These include Paul McCartney's "Momma Miss America" (which I included on a FleaMarket Funk mix and didn't label it, which had people getting excited at new Funk track which really wasn't new) and "Funky Snakefoot" by Alphonse Mouson (surprise, surprise, another drummer). Speaking of the Beasties, how about the funked up Paul Nice Remix of "Hey Ladies"? Another winner I have been bumping for sure. Spurred by the New York trio I jumped over to the West Coast and broke out DJ Shadow's "Lesson 4", that had me grooving to "Lovemaniacs" by Boobie Knight and the Universal Lady, "Scratchin'" by the Magic Disco Machine, and Baby Huey's "Listen to Me". Shadow's inclusion of these records (or their respective drum breaks really) to give his take on the original Double Dee & Steinski's Lesson series, or continue the series if you like, has always amazed me.
These are my first (of many) examples I believe are freethinking. Feel free to listen to any of this stuff for the first time, or for the hundredth time, it all keeps getting better.