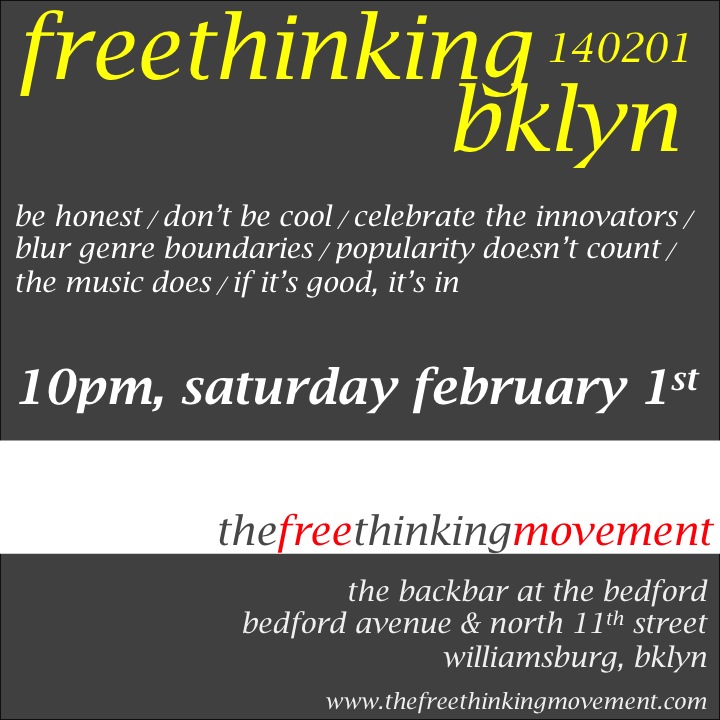 There have been a few phases for freethinking nights. I think it's fair to say that freethinking bklyn is finding a groove. It's a place where the classic soul of Aretha Franklin sits alongside Chaka Khan's disco anthems. Where the Northern Soul of Dobie Gray is matched with an entirely different type of northern soul from The Verve. Where it's OK to play Yazoo's 'Situation' and Kraftwerk's 'The Robots'. And, where Roy Ayers, Happy Mondays and Sonic Youth are meant to be together. It's new, it's old, it's British, it's Ethiopian, it's funky, it's industrial. It's freethinking bklyn: serving the sonically curious.
It's time for the next round. There will be music you know and music you don't. It will never be obscure just for the hell of it.
I'll bring the deep funk, the groundbreaking electronica, the soulful folk, the indie rock, the rare groove.
You bring an open mind.
Saturday, February 1st, 10PM to LATE
The BackBar at The Bedford (on the corner of Bedford Av and North 11th St – enter on North 11th)
Williamsburg, Brooklyn