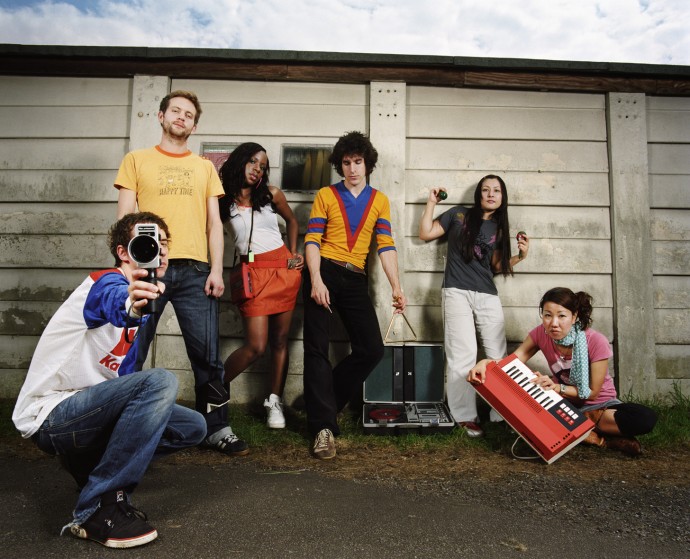 Last week was a 'two gig week' for me. In keeping with the freethinking vibe, the concerts couldn't have been more stylistically different. First up was the infectious Labrador-like charm of The Go! Team. I'll save the second gig for my next post…
The first time I properly came across The Go! Team (bar hearing a few tracks here and there) was at the Latitude festival in 2008. Appearing on the main stage in the middle of a sunny afternoon, they totally caught me off guard. It was less a live performance, more a work-out. Their relentless energy captivated a laid back audience, and I left the festival a fully-converted fan.
Three years later, I was looking forward to checking them out in a significantly smaller environment – the relatively intimate surroundings of the Bowery Ballroom. I'll say now that I have never seen the place so filled with energy. Taking the 'work-out' which I witnessed outside, on stage in front of a few thousand people, and placing it into the Bowery Ballroom essentially just magnified the impact. It was like witnessing a hurricane. I've seen a lot of bands in the Bowery Ballroom, from The Kings of Leon to The White Stripes. Honestly – this was better. Much better.
I'll also add The Go! Team to my list of 'British Bands I Have Seen Having A Blast In NYC'. They bloody loved it. Imagine the sound of Neneh Cherry busting out the 70s funk – with an ace band – and you're getting there. With each band member playing what seemed like (and could actually have been) an average of at least three instruments during the set, and more youthful enthusiasm than you could pack into an entire series of Skins – this was top drawer.
The only thing missing from the performance: horns. Their sound cries out for it. There are already six people on stage – why not just go balls out for it, and put another few people up there to fill the sound out even more? The samples underpinning their output would be so much better live as opposed to in a backing track.
I was already a convert. After seeing them last week, I feel like a fully-fledged advocate. Go see The Go! Team. Make sure you do some stretching exercises before hand – you'll be worn out by the end. But, you'll have a grin from ear to ear.