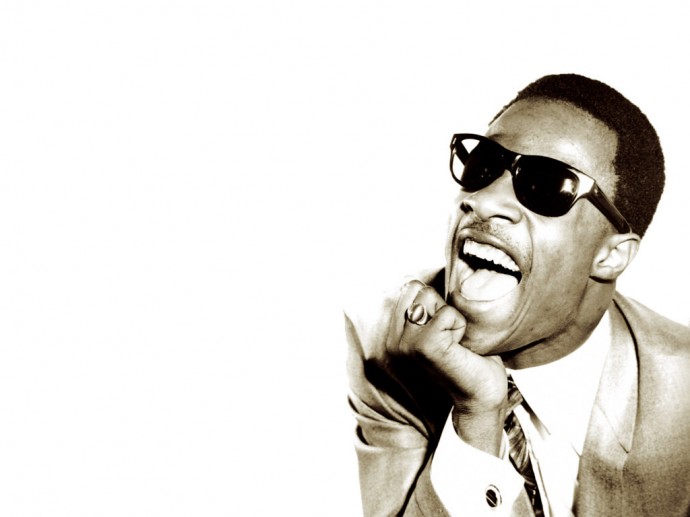 Yesterday, a mate of mine dismissed Stevie Wonder as being not that good. He's a good mate. Still is, despite this act of heresy.
The thing is, I understand people not liking Stevie. Or at least thinking that they don't like him. I'll be honest here – Stevie's output in the 80s was largely devoid of the charm of his earlier work. But the person behind 'As', 'Superwoman', 'If you Really Love Me' and 'Living For The City' kind of earns the right to do whatever the hell he wants to.
I love Stevie Wonder. Properly love the man. His early, straight ahead soulful pop hits like 'Signed, Sealed, Delivered' and 'For Once in My Life' are about as good as music gets. Upbeat, unashamed pop brilliance. They're also pretty much guaranteed to get a dancefloor moving, and smiles on nodding faces looking on. There's nothing – nothing – to not like about these tunes.
Moving on, we have Stevie maturing into the deeper funk sound captured on 'Music of My Mind' and 'Talking Book'. Both absolute classics in their own right, but totally outshone by his 1973 release, 'Innervisions'.
It's rare that an album exists as a complete entity, and could not be improved on in any way. I can't even begin to imagine what it must have been like to arrive home from the local record store, carrying a fresh copy of 'Innervisions', and placing the needle on the record. I envy those people who, in 1973, heard the vinyl ease into the opening bars of 'Too High'. The ride that they were about to be taken on was truly special – and here's the best bit – they didn't know how special. The journey that is 'Living for the City' alone would have left me gasping for air. Stevie tearing through a workout in socially-conscious funk, replete with his trademark roaring vocals as he screams through the final verse.
Yes, there were other fine, fine albums which Stevie treated us to in the 70s, but 'Innervisions' has it all. I can name great albums all day long, but I would struggle to name one that is better than this. Equally as good, maybe, but better? No, sir. I know that this will be a point that has been made many times, but bear with me as I share my perspective here. Part of what makes the album truly outstanding is how it is totally the product of its creator. It's pure Stevie. Lyrically, it is astonishing that it's so visual. It's like you're mainlining into Stevie's brain – seeing what he cruelly can't. Musically, it's the work of an artist who seems to be able to turn his attention to any instrument, say 'yeah, I can do that', as he just blows you away with his virtuoso talent.
So, to return to my opening gambit, I genuinely can understand people writing off the bloke behind 'I Just Called To Say I Love You'. I however, hold him up as a shining example of a freethinker: someone who genuinely pushed the boundaries, and brought deep, thoughtful soul funk to a pop-craving audience. Good work.