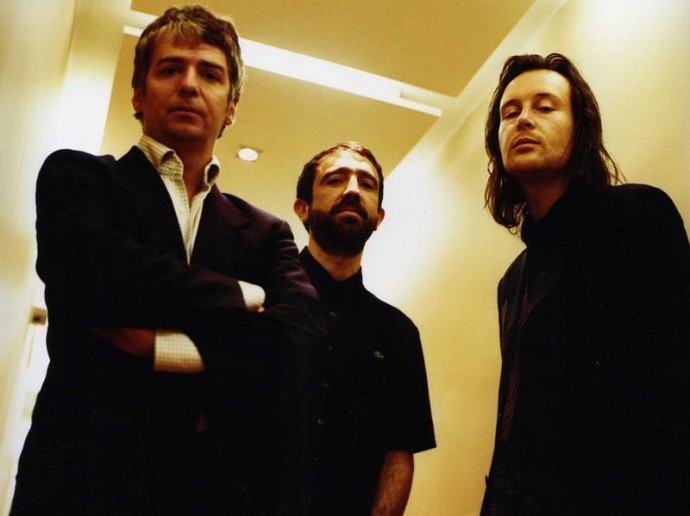 I buy a lot of music. I really do mean a lot. At time this can mean that I've got a stack of music that I just haven't got around to listening to yet. Delights just sitting there, on my dining room table, waiting for me to check them out. I finally got around to a pile of CDs which have been sitting there for months earlier this week. It contained Matthew Herbert, Elvis Costello, The Roots and Grant Green. It also contained I Am Kloot's 'Sky At Night'. I may not listen to another album this year.
I Am Kloot have been on my radar for a few years now. I've bought their albums, and played them religiously. I've seen them live, and sat to them while, as an anonymous group of blokes, they sat having a pint in Manchester.
Outstanding tracks litter their albums to date.
'To You', the opener on their debut album ('Natural History'), spoke of the riches to come. With Elbow's Guy Garvey on backing vocals, this was a calling card which showcased their laid back, light touch. As if this wasn't enough, the tracks 'Morning Rain' and 'Twist' demonstrated lyrical mastery, and more than a touch of dark humour.
Their follow up album ('I Am Kloot') had 'Life In A Day' – a belting tune if ever there was one, and showing a deeper side to the band. Heavy bass, and a knowing nod to being funky (without it being funk – a topic I've talked about before).
The bass plays a starring role in I Am Kloot. 'Gods and Monsters', for example, had the ridiculously catchy 'Over My Shoulder'. Again – all about the bass. How on earth this didn't trouble the top end of the charts is beyond me. It's just pitch perfect pop. No bad thing. To counteract the upbeat swing of 'Over My shoulder', the album also contains 'Avenue of Hope' – one of the bleakest tracks I know. From the piano opening, you know you're in for a rough ride…
And, from 'I Am Kloot Play Moolah Rouge', you've got 'Hey Little Bird'. Just beautiful.
Honestly – I Am Kloot are just a top band. They've knocked out some truly outstanding material, and have largely occupied that same space as their fellow Mancs, Elbow. Their output is solid, gains great critical recognition, and then disappears without the fanfare that it deserves. It's perhaps fitting that Guy Garvey and Craig Potter are on hand to produce the fifth I Am Kloot studio album – and the one which seems to have pushed them over into actually gaining some popularity, and even further acclaim.
As a fan, I thought I knew what to expect from an I Am Kloot album. I was wrong. Yes, it's got the same catchiness, the same humour, and the same darkness. And again, the bass is there – front and centre. But, here's the revelation, even to a fan. They've managed to develop their sound – to augment it with an orchestral sweep, yet still maintain their subtlety. It's low key. Understated. Yet epic. 'Lately' sounds like The Beatles coming down after a particularly trippy night. It's spine tingling. 'Proof' is perhaps the closest to 'old school' I Am Kloot. It's accessible, acoustic pop – but with a flourish (and more than a touch of 'the Elbows' when the payoff arrives). It also has a video that I defy you to not be more than a little moved by. It captures the simplicity and quirkiness of the band – it's simply spot on. At the other end of the scale, 'Radiation' is up there as the best work they have done. It's just huge. It shows a band brimming with ideas, and wanting to push themselves forward. I bloody love it.
I know I'll listen to other albums before the year is out, but I say in all honesty that I'd be happy to just leave 'Sky At Night' on repeat. If you are yet to try it out, please do. Finish your year on it. You'll look back at 2010 with a smile.
And, I'll say it now. This should have won the Mercury prize.

[sorry about this clip – it was the best I could find]