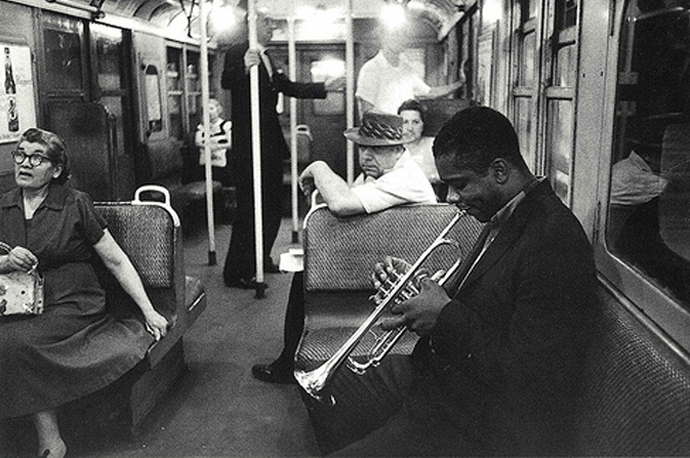 My introduction to Jazz was through Hip Hop. When I searched for the samples that bands like the Pharcyde, De La Soul, A Tribe Called Quest, and DJ Krush among others used, it would come back to one man: Donald Byrd. Donaldson Toussaint L'Ouverture Byrd II (what a name!) is an artist I encourage everyone to explore and enjoy. He's the trumpet player that replaced Clifford Brown in Art Blakey's Jazz Messengers. He is the guy who played with Monk to Hancock to Coltrane and beyond. Hard Bop to Straight ahead Jazz to Soul Jazz to R & B, Donald Byrd has done it all and then some. He hooked up with the Mizell Brothers to record Black Byrd, Blue Note's highest selling record of all time. This record is a monster. I remember buying Jazz and he had a split release with Grant Green on Verve, His Majesty King Funk, and Up! with Donald Byrd. I was hooked from there. This started me off on the journey that I'm still reeling from, still buying up all the Donald Byrd I can. From Places and Spaces to Street Lady to A New Perspective, you can't go wrong with Byrd.
Here's where it gets interesting. Art Blakey was known for having a rotating cast of players in the Jazz Messengers, then when he felt they were good enough, told them to go out on their own. He then took that attitude and formed the Black Byrds while he was teaching a group of students as a professor in college. They went on to become Jazz legends ("Rock Creek Park",what!!). It was this attitude that I believe was passed on to Guru, when he hooked up with Byrd on Jazzmatazz Vol. 1 in 1993. Was Byrd giving his blessing for Guru to keep this Jazzmatazz thing going? He did appear on another volume. An Upon hearing Volume 1 for the first time, I was blown away at the pairing of Hip Hop/ R&B players of the time with famous Jazz musicians. A great concept that has not been done that good since (although Ronny Jordan and Mos Def on "Brighter Day" on Rawkus runs a close second.)
To this day, I like this record so much, that I play it at gigs frequently. It never gets old. Guru's smooth flow (RIP), and Byrd's Jazz trumpet improvisations over tight Hip Hop beats declare this track a winner. This is another tune (along with Shaft In Africa by Johnny Pate) that James and I have played on separate occasions, and when we each did, looked over with the biggest grins, knowing it was a belter. If you slept on this record, here's your chance to revisit a classic.
Donald Byrd was also the inspiration for our freethinking bklyn flyer for Sunday Aug. 1st. Hope to see all you Brooklyn heads out for an early freethinking, Brooklyn style.