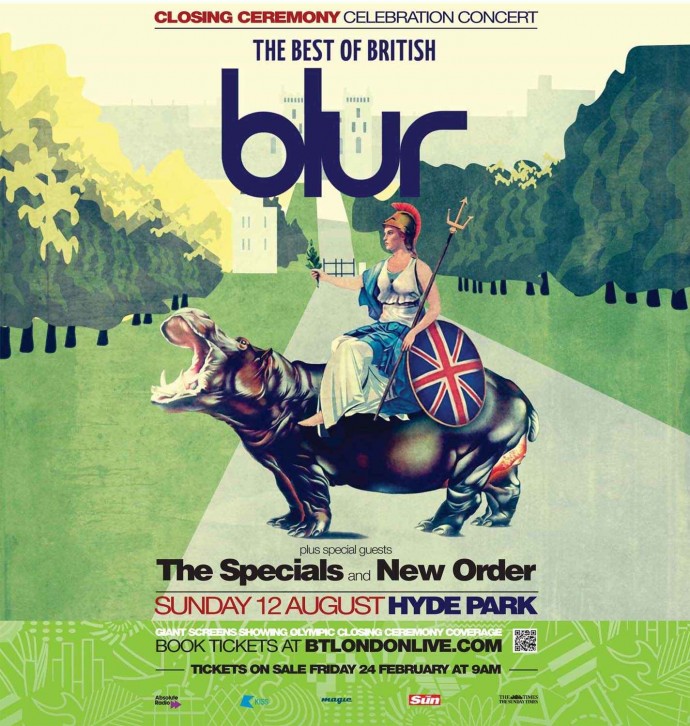 It was a fitting end. Emotional. Riveting. Over 80,000 people all signing along to some of Britan's top musical talent.
No. I am not talking about London's Olympic Closing Ceremonies, rather the alternative closing ceremony concert in Hyde Park – Bombay Bicycle Club, New Order, The Specials and the brilliant blur.
From the cynical to the down right hilarious tweets, I am fairly confident I bought the better ticket. This was confirmed when I had the unfortunate luck of catching Brian May and Jessie J destroy Queen on the big screen. I will not be watching the iPlayer version.
The Bombay Bicycle Club was a great way to kick of the day (sunny I may add in this here London…nearly unheard of in August). New Order played a solid set, and ended with a fitting tribute to Ian Curtis, closing on 'Love Will Tear Us Apart'. The Specials…well they brought the house down.
And then there was only Blur. This may (or may not) be their last concert together. I truly hope it is not because each time I see them, I am mesmerized – Damon bouncing around on stage like a school boy; Alex standing tall and cool in his white t-shirt; Dave keeping the beats; and Graham…ahhh Graham who just plays and plays.
So about the time that the marching band were trying their best to invoke Blur's 'Parklife' in the Olympic Stadium, Damon was asking us to call the police as he launched into 'Girls & Boys', the eternal anthem for teenage debauchery. After this point, it was pure magic – the Blur time machine transporting me back my last days of high school and early university years in Canada when everything about Britpop was cool…dreaming of leaving the great north strong and free to drink pints and smoke in the pubs of London.
Someone once said to me that Blur were over. Dead and forgotten. I disagree – and clearly the Hyde Park audience disagreed. Even with dodgy sound and concert goers not well versed in proper gig etiquette (more on this at a later date), Blur epitomized all the is right with British music (while over in that other park… One Direction showed us all that is wrong).
Pick a song from Blur's extensive playlist and we heard it. Granted there were some stellar tunes that were missed, but some classic and less played gems made an appearance.  London Loves made us all remember why we love the city;  'Under the Westway' played during the encore solidified that feeling; 'Coffee and TV' took us back to simpler days; 'Young & Lovely' was just that: lovely to hear a b-side that does not often come out; and 'Parklife'… well we all go hand in hand…with Phil Daniels of course.
I can't say that I did not shed a tear during the encore – 'End of a Century' always gets me. The thought that this might be the last time Blur play together is sad. But maybe this is the best way to end – one last beautiful concert, under the setting sun and at a time when London could not be more perfect. A tearful Damon, beating hand to chest as we all sang to 'The Universal' a few final parting words: "When the days they seem to fall through you, well just let them go."
Not sure I am ready to let them go…just yet.