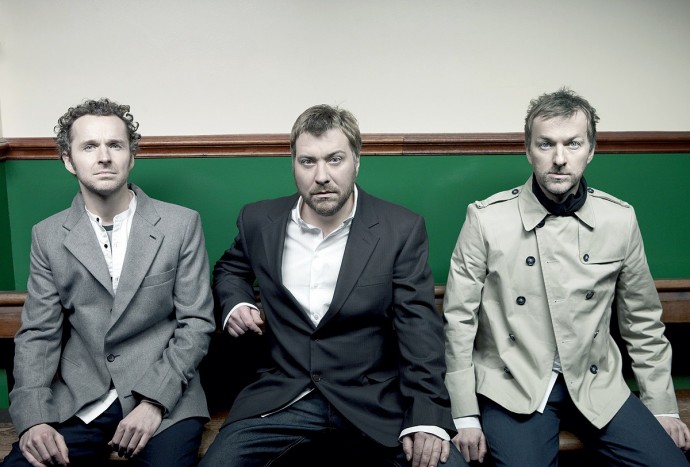 'The stage reeks of Manchester'. A great line, and one for which I can take no credit. As Doves walked onto the stage, in Hammersmith, it felt like the stage was suddenly a part of The North. It was an outpost of the Mancunian Republic. This, despite not a note being played, or a word being spoken. Doves look about as Manc as it gets.
They are also – note the present tense – one of the finest bands in the UK. I'm getting this in now, while the present tense is still valid. If news stories last week are to be believed, it looks as though the present tense will be on hiatus as of next month. No more albums. One more concert is all that we can expect from this fine musical export. A few thousand miles separation makes my attendance at said concert 'a bit tricky', but it could well be worth a stab…
Emerging from the ashes of Sub Sub (literally), Doves were an instant draw for me. At once deep, brooding, and heavy, their debut album, 'Lost Souls', contained music which also spoke to their roots. It was hard. It would fill a dancefloor. It was the sound of the early 90s 'Madchester' scene growing up, getting married, having kids, but still banging out music which was earth shatteringly good. At one end of the spectrum you had the deep introspection of 'The Cedar Room', and at the other the balls-out pounding of 'Here It Comes'. It was quite wonderful.
With each album, this wonderful dichotomy only grew. 'The Last Broadcast' contained 'M62 Song' – not what anyone would call a floor filler – and the Brazilian-tinged wig out of 'There Goes The Fear'. It was hugely uplifting. This was the sound of a band not just hitting its stride, but one which was ready to take on all comers.
'Some Cities' saw 'the Doves sound' grow to epic proportions. This was music which demanded volume. Lots of it. From 'Black and White Town' through to the mind boggling 'Snowden' – Doves had achieved the unthinkable by bettering their previous album.
And to what looks like being their final full length output, at least for the foreseeable future, 'Kingdom of Rust'. At times retaining the epic sweep of its predecessor, for example 'Winter Hill', and also speaking once more to the more electronic roots of the band 'Jetstream', it was a joy. It was also unmistakably 'a Doves album'. The title track dripped of their sound. It reeked of Manchester.
It will be a genuine shame if this does prove to be the end of the road for Doves, and not just a blip. Their live shows have always impressed – and I've seen a fair few of them. Whether it's a festival appearance, Brixton Academy, or even a rare acoustic performance at the Rob Gretton memorial concert at The Ritz in Manchester – they've always been great. I remember one performance in particular. I'd been with a friend to see Bat For Lashes (and was somewhat disappointed by the show which accompanied her second album). A mere few days later we went to see Doves at Brixton Academy. Their first note – literally – blew us away. It was like we were exorcising the demons of disappointing concerts. Right there, right then, Doves were on fire. While it normally lifted the roof off most venues, 'There Goes The Fear' seemed to reach almost stratospheric levels that night. There was no other band that I would have rather been seeing.
Let's hope they'll be back.